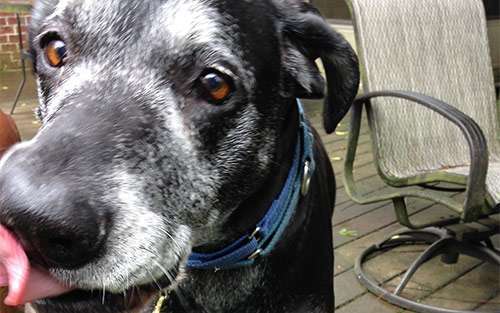 If you have a pet, you know that your furry friend can brighten your mood. Now, research is reaffirming what pet lovers have known all along: interacting with animals can improve our emotional wellbeing.
Animal therapy – a field that includes a variety of animal-assisted activities and therapies used to help people cope – has become a fixture in hospitals and clinics across the country. At the Children's Hospital Los Angeles, trained therapy dogs ranging from a 4-pound pooch to a 190-pound canine named Bonner visit every inpatient unit, including intensive care. The Mayo Clinic and Vanderbilt-Ingram Cancer Center are among the many other clinics that have animal-assisted therapy programs.
Animal therapy programs have also been used to help victims recovering from traumatic events, and to support the rehabilitation efforts of patients undergoing physical therapy.
Jordan Berlin, MD, co-leader of the Gastrointestinal Cancer Research Program at Vanderbilt-Ingram Cancer Center and a member of our Scientific and Medical Advisory Board, said Vanderbilt's Pet Visitation Therapy Program is popular among patients young and old.
"When the dog of the day shows up in front of people who like dogs, you can see the smile develop and happiness ensues," Berlin said of the pet therapy program. "Most people know that I have dogs. I talk to all my patients about their pets, and many express that they benefit from their love, comfort and exercising together. Some patients depend on those dogs for emotional support and sometimes it is just a nice commonality to discuss."
But the benefits of canine companions aren't just reserved for those who are recovering from medical conditions. Research highlights many ways that animals can help people feel good at any age and ability level. Here are five:
Reduced anxiety and stress: Interacting with animals can reduce key stress-related indicators including cortisol, blood pressure and heart rate
Stronger interpersonal skills: When a dog is in the room, humans tend to interact more positively and show each other more attention—a phenomena that many pet owners wouldn't find surprising!
More willingness to exercise and be active
Improved mood and a boost in energy
An emotional support system
Although assisted animal therapy has been used in the medical world for more than a decade, our understanding of the dynamic between humans and pets is still evolving. The National Institute of Child Health and Human Development established a research program on Human-Animal Interaction in 2007 to continue exploring the effects of our relationship with animals.
For pet owners like Rick Asbridge, a pancreatic cancer survivor since 2007, the benefits of having a four-legged companion have already been life-changing.
"It didn't matter how I was feeling at the time; [my boxer Zeus] was always there," he said. "I can tell you with all my heart I do not know where my health would be at this moment without God and Zeus."
In recognition of National Puppy Day, read more about Rick and his four-legged caregiver, Zeus. If you or a loved one is facing pancreatic cancer, our PanCAN Patient Services Case Managers are here to connect you with the support and resources you need. Call us at 877-272-6226.