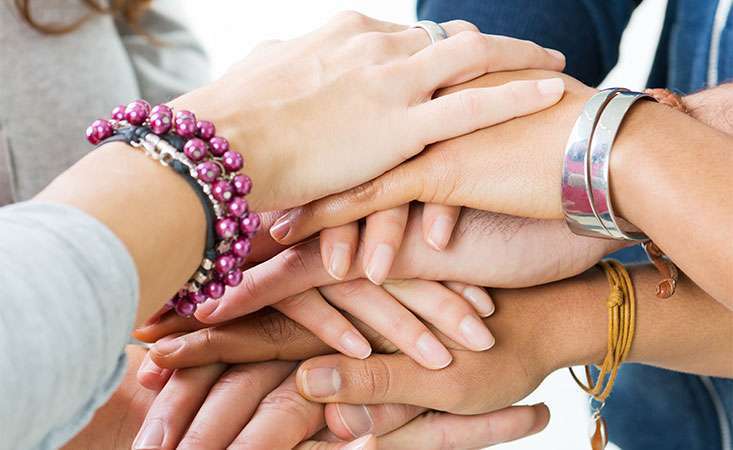 From decking the halls to making a feast, the holidays can be anxiety-ridden for even the healthiest of people. Adding a cancer diagnosis to the mix can make for an overwhelming experience. But there are ways cancer patients and caregivers can take back the holidays (and reduce stress) so they can enjoy this time of year even in the midst of illness.
In fact, Nicole Feingold, MA, director of Patient Services at the Pancreatic Cancer Action Network, said participating in holiday events can be a great way to take your mind off current challenges.
"If a patient feels up to it and they get the sign-off from their medical team, participating in as many or few holiday events as they'd like is encouraged," Feingold said. "It can provide a fun, needed distraction. This idea also applies to the patient's friends, family and caregivers. Only participate in what you feel comfortable doing."
Planning is Key
No matter what holiday you're celebrating, chances are you want to do it in the same way you have in previous years – dinner with family, opening presents, attending parties. Make attending these events your Plan A. If you feel up to it – go. Stay as long as you feel comfortable and don't beat yourself up if you need to head home early.
Have a Plan B in place in case you're tired, emotional or just need some downtime. For example, let's say you and your friends planned to go to the town square for a Christmas tree lighting but now you're having second thoughts. Your Plan B could include watching a live stream of the lighting from home or lining up a few movies to get you in the holiday spirit.
Honesty is the Best Policy
First, be honest with yourself by taking a few moments to think about how you are feeling. Then be honest with everyone else. There are so many obligations at this time of year – it's okay to skip out on some of them. If you are feeling fatigued, take a nap or break activities into smaller, more manageable tasks. If you are feeling overwhelmed, consider stress-reducing activities like yoga, exercise or acupuncture. However, always speak to your healthcare team before initiating new wellness practices.
Traditions: Old and New
The holidays are a time wrought with tradition, but a cancer diagnosis can bring lots of unexpected changes and challenges. Decide which traditions you want to keep, which you want to let go of and which you want to change. If you always host dinner, but you aren't feeling up to the preparation, cooking and cleanup, consider altering the tradition slightly. Maybe you decide to host a potluck dinner instead of doing all the work yourself. Another idea – have a meal in a restaurant instead, or ask another friend or family member to host everyone.
Remember, new traditions have to start somewhere, so there's no wrong way to do it.
Be Careful with Overindulging
From cookies at the office to elaborate meals out with friends, the holidays present a time to overindulge in your favorite guilty pleasures. Keep track of what you're eating and drinking and how you feel afterward. If you overeat or drink one day, consider balancing it out by making healthier food and drink choices in the following days.
Communicate, Communicate, Communicate
Sometimes you may need to vent – bad days are inevitable. Other times, you may need to tell loved ones how much they mean to you – it's okay to feel emotional. And if you need help, ask – people want to help. While some friends or family may be tapped into your emotions, others may lack awareness. Whatever your needs, communicate how you are feeling and how others can help with obstacles.
Don't Leave Yourself Out
While you're busy giving gifts to all of the important people in your life, don't forget yourself. Gift yourself the downtime to relax or treat yourself to something you really enjoy. Buy something nice, like a cozy blanket or a hearty meal, if it will bring you greater comfort. Whatever you choose, be sure to care for yourself – especially if you're in the midst of caring for everyone else.
We're here to help. Contact a PanCAN Patient Services Case Manager for additional information and resources on these topics and more.