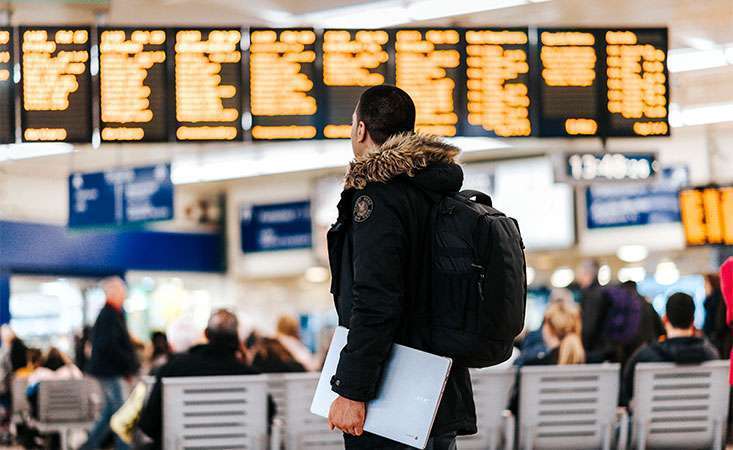 Taking any trips this holiday season? Beyond the regular hustle and bustle of getting suitcases packed and setting up any house or pet sitters, there are some specific things pancreatic cancer patients and caregivers can do to make the most of their trips.
Here's a list of travel questions patients (and caregivers on their behalf) can ask themselves to prepare for their holiday getaways.
Did you check in with your doctor? Let your doctor know about your travel plans. Based on your plans and condition, your doctor might have specific advice. For example, some cancer patients may not be permitted to fly soon after having a procedure. Or, the doctor may advise against flying if they're concerned about how the exposure to high altitudes and changing oxygen levels will affect you. It's always best to check in with your doctor before traveling.
Do you have your medical information? Travel with your medical information in case you need to schedule an unexpected doctor visit. Before your trip, ask your healthcare team to write a summary of your medical instructions, allergies, diagnosis and treatment plan. This way, you'll have it on hand if the hospital you visit is unable to access your health information.
Will your medicines be close to you when you travel? Pack your medicines (and related instructions) so they're always within reach. Keep them close by storing them in your purse or carry-on luggage. It's too risky to pack your medicine in checked luggage, which can end up delayed, misplaced or damaged.
Did you plan for the unexpected? Make sure you and your family and friends you're visiting have a plan in case of an emergency. Cover all possibilities, even for events that don't seem likely to happen. For example, consider looking up some hospitals and doctors nearby your destination and saving their addresses and phone numbers.
Did you speak openly and honestly with your loved ones about how you're feeling? Be honest with your family and friends about how you're feeling, so you can get the care you need to help you feel better – including extra rest or planning low-key activities. You do not have to pretend to be feeling at your best, even around the holidays.
Do you need to delegate any holiday tasks to others? You may have traditional holiday tasks, such as helping to cook big dinners or decorating the house. But it's all right to let your loved ones know if you don't feel up to these tasks, so they can help or take over.
Do you have a plan to deal with any time changes? Your holiday travel may put you in a different time zone. If so, don't let this interrupt your diet and schedule. You still need to eat balanced meals and get plenty of rest. Continue to follow your normal healthy habits, like going on walks.
Did you remember sun protection? Certain chemotherapy drugs can make skin more susceptible to sunburn. Pack and wear protective clothing to help you avoid sunburns.
Did you stop to think about how much fun you'll be having? Getting excited to see and spend quality time with your loved ones is the best part about preparing for your trip. Though you may not be able to do activities that are physically strenuous, you can still enjoy the company of your family and friends, and celebrate the joy of the season.