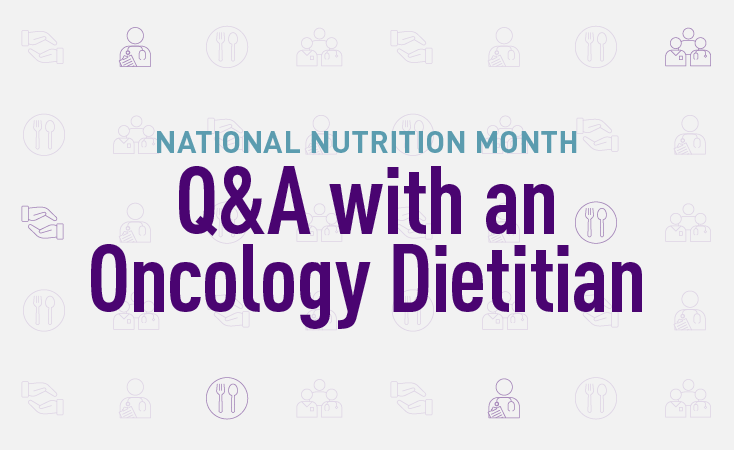 When clinical oncology dietitian Jeannine Mills meets with pancreatic cancer patients, fulfillment comes in many forms. And it works both ways…
For Jeannine, it's in collaborating with a patient's healthcare team to make sure that proper diet and nutrition are part of the patient's care plan. In being able to share tips that have worked for other patients who have had some of the same nutritional challenges. In building years-long relationships with patients and caregivers, many of whom tell Jeannine they consider her family.
For Jeannine's patients, fulfillment comes in knowing another expert is on their team to reassure them that their dietary concerns and challenges are common, to help improve their quality of life – from diagnosis through treatment and beyond – and more.
Jeannine, a member of PanCAN's Scientific & Medical Advisory Board, specializes in nutrition for the Gastrointestinal Oncology Program at Norris Cotton Cancer Center at Dartmouth Hitchcock Medical Center.
We asked Jeannine to share more about how a dietitian can help pancreatic cancer patients.
PanCAN: When should a pancreatic cancer patient meet with a dietitian, and is it important for all patients?
Jeannine: Pancreatic cancer patients should try to meet with a dietitian soon after diagnosis, regardless of whether they have experienced weight loss. Too often, patients are referred to a dietitian once they're in treatment and are experiencing side effects that could be making it difficult for them to eat or maintain weight. As dietitians, we want to support patients from the start, especially because maintaining weight helps patients better tolerate treatment, supports recovery and improves quality of life.
PanCAN: Talk more about how you work with a patient's healthcare team.
Jeannine: The nutrition recommendations I provide for patients are always made in collaboration or shared with the rest of the care team – and I feel that this effort makes the biggest impact. I could not do my job without the gastrointestinal oncology team. It's common for me to be part of the initial appointment with someone after they've been diagnosed with pancreatic cancer, to do post-op visits with our GI surgeons after the Whipple procedure and other pancreatic surgeries, and to be on-site with patients during treatment or at clinic visits.
PanCAN: Are patients ever surprised to see a dietitian in the room as part of the healthcare team?
Jeannine: Yes, especially if it's my first time with a patient. Sometimes they don't understand my role, so I explain how proper diet and nutrition can help them, whether it's easing side effects or improving overall wellbeing, etc. One of the most helpful things I've found that I can do for patients is to let them know that the nutritional challenges they may be having – lack of appetite, issues with gas, taste bud changes, etc. – are "normal," and that helps ease their minds. I also have been working with patients for so many years that I have learned from them what works, and I can share that information with other patients.
PanCAN: You've been in this field for over 20 years. What keeps you motivated and inspired?
Jeannine: One moment that comes immediately to mind: I was invited to speak at an event not long ago focusing on pancreatic diseases and was limited in the amount of time I could present. One of my patients who was at the event approached the facilitator at the end, complaining – he said that I should have been given more time to speak, adding that I was his dietitian and that what I had to say was important to all patients. There were other patients I had worked with at the event, too, and it was so comforting to see them in the audience with a smile on their faces.
I know that for pancreatic cancer, dietitians make a real impact. And that's a great feeling.
Contact PanCAN's
Patient Services
for comprehensive information about living with pancreatic cancer, including diet and nutrition as well as resources to find a dietitian.