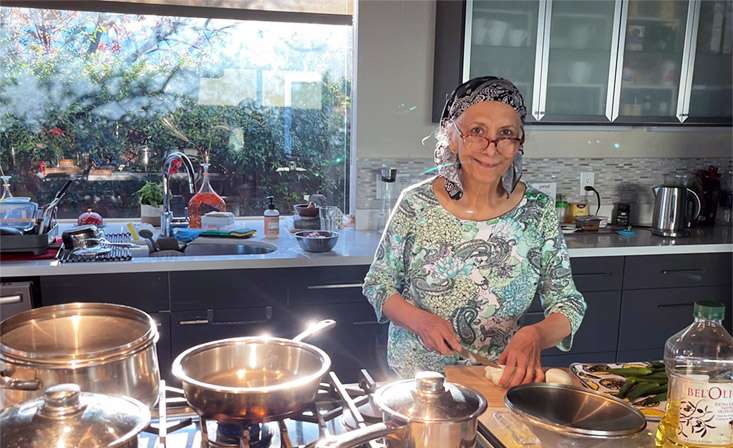 In 2003, Ali Nazar returned home after a year of travel abroad. Tired of eating every meal out while on the road, all he wanted was a home-cooked meal. So, he started cooking all the time which thrilled his mom, a master Pakistani chef. Syeda "Naz" Nazar was so happy that one of her three sons had taken interest in the art she loved so much, she put together a homemade cookbook of their family recipes.
The book instantly became one of Ali's most prized possessions, and it served as the blueprint for many sumptuous feasts in the years that followed.
In January 2022, Naz was diagnosed with pancreatic cancer. Ali and his mom had always talked about formalizing the DIY cookbook she had prepared for him all those years ago, and her diagnosis spurred them to action.
And so, Naz's Dastarkhan: Home-Cooked Favorites From A Pakistani Kitchen was born.
"My cousin Bano and I worked closely with my mom to get as many recipes, tips and stories documented throughout the rest of the year," Ali said. "The process was a welcome distraction for her as the disease progressed, and I think the knowledge that she was preserving and sharing our heritage recipes for future generations gave her comfort in her final days."
Syeda "Naz" Nazar passed away in November of 2022. One of her last wishes was that profits from the cookbook be donated to PanCAN.
"In the shell-shocked first few days after her diagnosis, we all researched as much as we could about the disease," Ali said. "PanCAN's website was one of the best resources we found online, and we were very grateful for the guidance it gave on how to best pursue facing this terrible disease."
"Community provides comfort and hope, and PanCAN provides community to people who have been diagnosed with one of the scariest diseases out there," Ali said. "Pancreatic cancer has now had a major impact on our lives, and my family and I want to support others who may be affected as well."
And while Ali has many favorite recipes from the cookbook, he singled out two as both delicious (his kids devour than) and easier to cook for those new to Pakistani cuisine. To whet your appetite, we've included them here: Masoor Daal with Timatar and Easy Karhai Chicken.
"Naz's recipes are easy-to-follow love letters from our South Asian ancestors that we hope everyone will enjoy," Ali said.
"We hope that my mom's courage in writing this book while facing this disease head-on can inspire others and provide comfort as they proceed on their own journey."
Give today
and support pancreatic cancer research funding, free services for patients and families, and more.