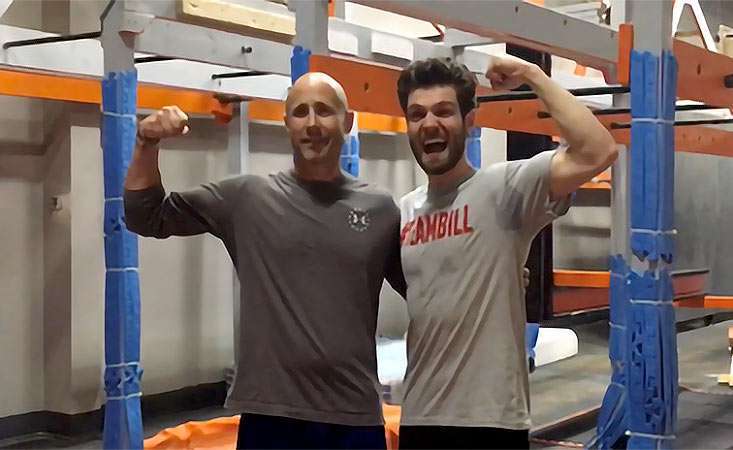 Editor's Note: We were sad to learn of Bill's passing shortly after publication. Bill's story, like so many others, is the reason we must continue to fund research, raise awareness and advocate for improved outcomes for patients.
Tyler Gillett is used to getting encouraging chants of support while tackling courses on NBC's hit show, "American Ninja Warrior." This season though, he'll be the one doing the encouraging.
Tyler's cousin, Bill, was diagnosed with stage IV pancreatic cancer a year ago and he's using his platform and the show to raise awareness about the disease.
A superfan of "American Ninja Warrior" since he was 14, Tyler is competing for the fourth year in a row. Due to coronavirus restrictions, filming was different this year. Rather than taping in different cities and having live audiences, the show was filmed over two weeks in St. Louis and had 150 competitors instead of the regular 600-700.
More than three million viewers tune in each week to see who is going to, as the show's iconic cheer goes, "beat that wall." With that kind of viewership, Tyler knew he had the opportunity to share Bill's story with the hopes of educating people about pancreatic cancer.
"If you have any platform, you should use it for something positive," Tyler said. And use it he has. Tyler has been sporting a TEAM BILL t-shirt when he competes on the show and using his social media presence to spread awareness.
Contestants on the show are given one chance to complete a course and move to the next stage of the competition. A failed course means you need to wait an entire year to try again. Tyler credits the show for teaching him how to pick up the pieces and roll with what comes his way.
That's exactly what he's been doing since he found out about Bill's diagnosis – turning a heartbreaking time into a time of action.
Tyler thinks people love the show because it's about overcoming obstacles, both physical and mental, but he is quick to dismiss comparisons to what Bill is going through.
"Bill and everyone else dealing with pancreatic cancer are way stronger than me. They're the warriors."
Tune in to NBC next Monday, October 12, 2020 to see Tyler compete and discuss why raising awareness for pancreatic cancer is so important.