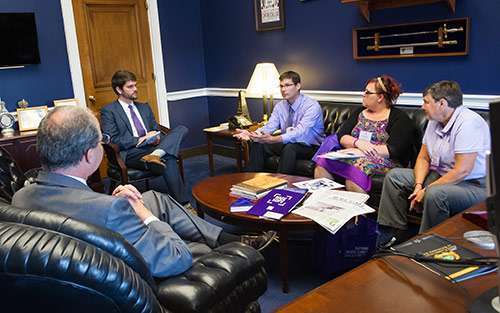 Together, we have been relentless in fighting for increased funding for pancreatic cancer research and today, we are proud to share another amazing result of your efforts.
This past month, the National Cancer Institute (NCI) announced a new research funding mechanism to better understand and treat pancreatic cancer. This important commitment to research is the result of your hard work.
Your voice makes a difference
In 2012, advocates like you helped pass the Recalcitrant Cancer Research Act into law, which requires NCI to develop and implement a national framework (similar to a strategic plan) to advance key research strategies to improve outcomes for patients facing pancreatic cancer.
The resulting NCI framework identified four scientific priority areas: early detection biomarkers, KRAS, diabetes and immunotherapy.  This new immunotherapy request for applications (RFA) represents the fourth and final priority to be addressed in furtherance of the law.

The NCI will devote $3 million toward the development of a consortium for translational studies of the pancreatic cancer microenvironment and an accompanying resource center.
"Thank you to our congressional leaders and advocates who worked so hard to turn their passion into action," says Megan Gordon Don, our vice president of Government Affairs & Advocacy. "This is an exciting testament to the power we each possess to make a difference."
Why research the tumor microenvironment and how it relates to immunotherapy?
Pancreatic tumors are surrounded by a notoriously dense and complex microenvironment of various cell types – including cells that hide the tumor from the immune system. To better understand the role of the microenvironment in the development of pancreatic cancer, these new federal funding opportunities will stimulate important research.
This strong commitment to pancreatic cancer research should lead to important discoveries of the vulnerabilities of the tumor microenvironment that could be exploited in the design of novel immunotherapeutic approaches and their combination with cancer vaccines, checkpoint inhibition, cellular therapies, other precision medicine interventions and radiation therapy.
"I am so pleased with the NCI's commitment to advancing research in this essential area," explains Lynn Matrisian, PhD, MBA, chief research officer at the Pancreatic Cancer Action Network. "A deeper understanding of the pancreatic tumor microenvironment and how it impacts the patient's immune system will be critical as we move toward our goal of doubling pancreatic cancer survival by 2020."
Thank you!
Your voice is a powerful force in the fight against pancreatic cancer, and your support in our efforts is more critical than ever.
Join us in advocating for better treatments for all those facing pancreatic cancer. Click here to take action today.