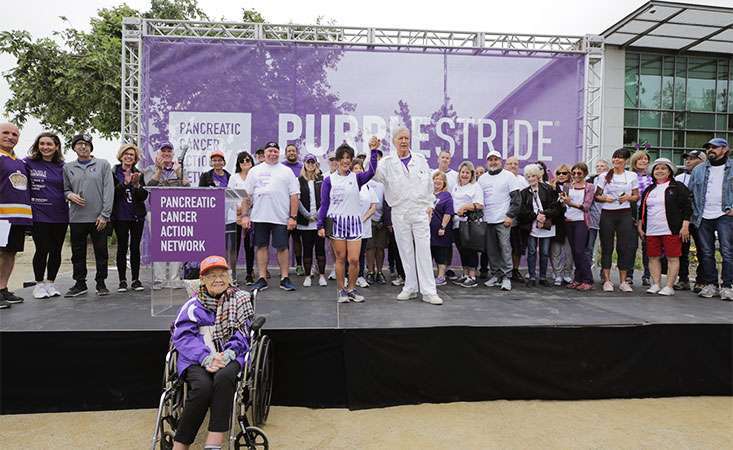 It was a record-breaking morning filled with unforgettable moments for the more than 2,300 pancreatic cancer survivors, caregivers, families, volunteers and friends – the largest crowd in event history – who attended the Pancreatic Cancer Action Network's (PanCAN) PurpleStride Los Angeles May 4 at the Los Angeles Zoo.
Just *look* at the wonderful turnout here at #LAZoo for @PanCAN's #PurpleStride walk! #TeamAlex #WageHope pic.twitter.com/L79CxY8AZg

— Los Angeles Zoo and Botanical Gardens (@LAZoo) May 4, 2019
Aside from the nearly $652,000 that was raised – including an astounding $100,000 by Team Cedars-Sinai Whipplers – for research, patient support programs and services, PurpleStride participants heard touching remarks by several guest speakers, including one who took the crowd by surprise when he made his way to the podium.
The inspiring words of "Jeopardy!" host Alex Trebek, who announced his own stage 4 pancreatic cancer diagnosis in March via a video message to his many fans worldwide, rang especially true to the 55 survivors in attendance.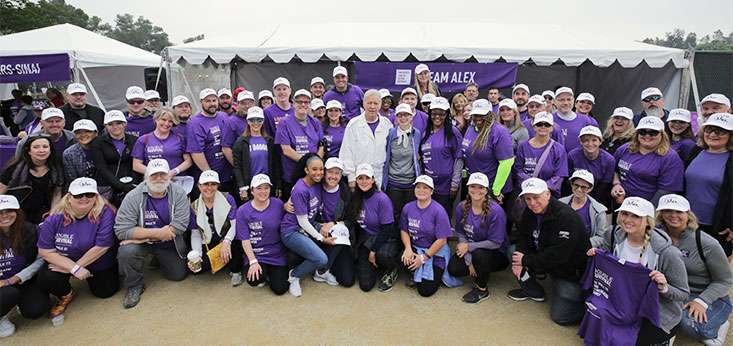 Team Alex included nearly 200 "Jeopardy!" staff, crew, friends and family.
"What we have heard from today's speakers is that there is always hope," Trebek told the crowd. "I have now been a cancer survivor for 60 days and my hope is that I get to match their accomplishments."
Team Alex, comprised of close to 200 "Jeopardy!" and "Wheel of Fortune" staff, crew, family and friends who came together to show their support for Alex and raise money for PanCAN, was the second-leading fundraising team at PurpleStride Los Angeles.
Team Alex raised nearly $60,000 to improve patient outcomes, and the amount continues to increase.
The No. 1 fundraising team was the Cedars-Sinai Whipplers, led by surgeon Nicholas Nissen, MD.
Nissen, a member of PanCAN's Scientific and Medical Advisory Board, raised $75,000 alone, making him the top individual fundraiser. In third place was Team PancreADDICTS at more than $48,000. Team Purple Reign, made up of PanCAN staff, friends and family, was the fourth-highest fundraising team at $44,000. In total, 145 teams participated in this year's event.
In addition to breaking fundraising records, PurpleStride Los Angeles hosted the most pancreatic cancer survivors at the event to date – and they all joined Trebek on stage for a group photo before crossing the start line with the sea of purple-shirted participants. The 2.2 mile walk route wound through the zoo and gave them closeup glimpses at elephants, giraffes, zebras and even "Reggie" the alligator, legendary in Los Angeles.
These moments and more were captured by several media outlets in attendance, including KCBS, KABC, People magazine and others.
Other poignant moments from the day included speaker Anggie Becorest, who serves as the volunteer Sponsorship & Flagship Chair for PanCAN's San Diego Affiliate, sharing her story of longtime survival of pancreatic cancer. She was diagnosed 22 years ago when the five-year survival rate for the disease was only 4 percent. Today, pancreatic cancer is the third leading cause of cancer-related death in the United States with a five-year survival rate of 9 percent.
"Seven years ago, my journey brought me to this community of passionate people looking to make a difference," Becorest told those gathered. "If you are currently fighting your battle, know that we've got your back and we will do everything in our power to change the course of this disease. With the strength of this community, anything is possible!"
Julie Fleshman, JD, MBA, PanCAN's president and CEO, also shared her personal story of being affected by pancreatic cancer. She lost her father to the disease just four months after his diagnosis in 1999. She went on to introduce Trebek, thanking him and Team Alex for their support in championing the pancreatic cancer cause.
She added, "Alex's courageous announcement about his pancreatic cancer diagnosis has helped raise awareness of pancreatic cancer, and I am extremely grateful."
PanCAN is also filled with heartfelt gratitude for the many dedicated Los Angeles Affiliate of volunteers who hosted the event, as well as event sponsors, donors, fundraisers and participants.
You can still
donate
to PurpleStride Los Angeles. Your gift supports leading-edge pancreatic cancer research and provides critical information, resources and services to patients and families.