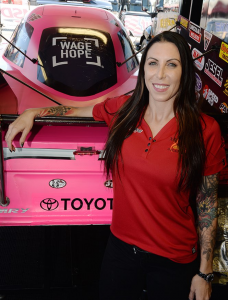 On World Pancreatic Cancer Day, Nov. 13, the Pancreatic Cancer Action Network's Wage Hope logo was prominently featured on the rear and side windows of Alexis DeJoria's 10,000-horsepower Patrón XO Cafe Incendio Toyota Camry Funny Car, in an effort to raise awareness for the often under-publicized disease.
"My father's best friend and business partner, Paul Mitchell, died of pancreatic cancer many years ago. I saw the deterioration in him. The whole thing was incredibly sad. I'm proud that we're able to support a good cause and bring awareness to pancreatic cancer," said DeJoria, professional NHRA racecar driver and daughter of John Paul DeJoria, co-founder of John Paul Mitchell Systems.
Alexis DeJoria Racing has been associated with raising cancer awareness since the team's inception in 2011. World Pancreatic Cancer Day was another opportunity to continue their philanthropic endeavors as they race to raise awareness for the Pancreatic Cancer Action Network.
"Wage Hope is a relentless call to action to keep fighting for those battling pancreatic cancer, a disease with a five-year survival rate of only seven percent," said Julie Fleshman, President and CEO of the Pancreatic Cancer Action Network. "With more supporters like Alexis DeJoria, we can rewrite the future for pancreatic cancer and achieve our goal to double survival by 2020."