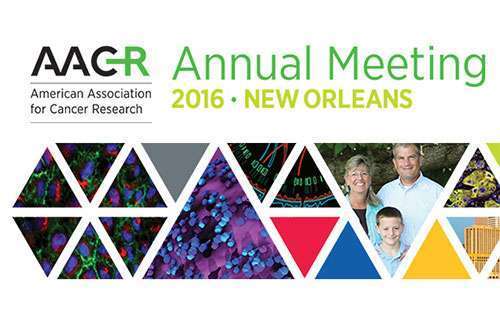 From April 16 to April 20, nearly 20,000 cancer researchers from around the world gathered in New Orleans for the largest ever American Association for Cancer Research (AACR) Annual Meeting.
Attendees included members of our staff, research grant recipients, Scientific and Medical Advisory Board (SMAB) members, other investigators focused on pancreatic cancer and patient advocates. Each year, the meeting provides a prime opportunity for our Community for Progress to come together, share ideas, build collaborations and learn from experts from all fields of cancer biology to move us closer to our goal to double pancreatic cancer survival by 2020.
This year's theme, "Delivering Cures Through Cancer Science," emphasized the importance of every step along the research continuum as it relates to improving patient outcomes, whether research is conducted in laboratories or clinics.
This theme aligns with our Research Grants Program, which offers funding opportunities for junior and senior investigators focused on basic, translational and clinical research.
Pancreatic cancer was the subject of many sessions throughout the meeting, including several organized by our organization. Highlights from these sessions are outlined below.
Career Paths in Cancer Research
This informal session featured the recipient of the 2011 Tempur-Pedic Retailers – Career Development Award, Kenneth Olive, PhD, and Victoria Manax, MD, executive director of U.S. Medical Affairs for Celgene Corporation, who answered questions about professions focused on pancreatic cancer in the academic setting and in the pharmaceutical industry.
"You need to immerse yourself in a research project that keeps you up at night and wakes you up in the morning," Dr. Olive told attendees.
Meet the Pancreatic Cancer Icon
Frank McCormick, PhD, FRS, spoke to attendees about his career trajectory, which has included work in academia, pharmaceutical companies and a current position with the U.S. government. Dr. McCormick is the national program advisor for the National Cancer Institute's RAS Initiative, which includes efforts to understand and therapeutically target KRAS, the most frequently mutated gene in pancreatic cancer.
Dr. McCormick was the recipient of an Innovative Grant from us in 2010, generously funded by the Fredman Family Foundation. He is also a member of our Emeritus SMAB.
In partnership with Dr. McCormick and the Frederick National Laboratory for Cancer Research, the hub for the RAS Initiative, we recently named four recipients for this year's KRAS awards. Excitingly, Marco Biancucci, PhD, and Perry Kennedy, PhD – this year's KRAS Fellowship recipients – were invited to speak at the NCI RAS Initiative at the Frederick National Laboratory for Cancer Research update during the AACR Annual Meeting.
Pancreatic Cancer Action Network – AACR Research Grants Presentation Session
More of our research grant recipients' progress was spotlighted at this exciting session. SMAB members served as moderators, and talks were organized based on hot topics in the field – including cancer cell metabolism and immunotherapy. Grantees gave short presentations followed by robust questions and answers from an engaged crowd at this well-attended session.
In addition to the sessions geared toward researchers, AACR hosts a Scientist – Survivor Program (SSP) that invites cancer survivor/advocates to learn about biomedical progress and about the roles advocates can play in moving the cancer field forward. This year's SSP was attended by Maurice Bason, donor and corporate ambassador for our Cincinnati Affiliate of volunteers, and Yoshi Majima of Pancreatic Cancer Action Network Japan.
Finally, a major honor was bestowed upon us when our paper was named the most highly cited article published in the prestigious AACR journal Cancer Research from 2014. Cancer Research is celebrating its 75th anniversary this year, and it is the most highly cited journal in cancer biology.
The meeting concluded with remarks from Vice President Joe Biden, speaking about his Cancer Moonshot Initiative and offering praise, gratitude and hope to a packed room of cancer researchers.
Vice President Biden expressed that we need to move toward more collaboration, greater emphasis on helping patients and additional resources to support potentially lifesaving cancer research. It was the perfect way to end the meeting, and we couldn't agree more.