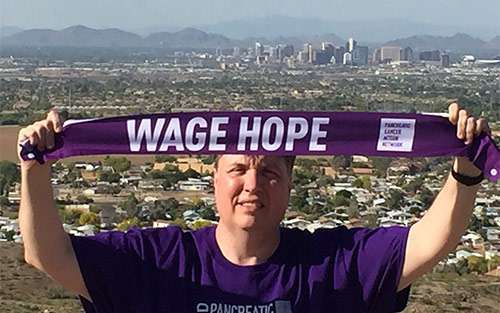 Note: This is the second installment in a 10-part series following Pancreatic Cancer Action Network volunteer Andrew Miller as he participates in PurpleStride walks throughout the country. Andrew traveled 1,011 miles to Phoenix, Ariz., from his home in Portland, Ore., and has accumulated a total of 3,548 miles from his PurpleStride travels. Andrew shares his experience at PurpleStride Phoenix via the journal entries below.
Friday, March 31
Event setup at Scottsdale Civic Center Park started at 4 p.m. this afternoon and wrapped up around 6:30 p.m. I helped Frank Espino, PurpleLight ambassador and PurpleStride site coordinator, set up the tables and chairs around the park. We loaded the 8-foot tables onto a four-wheel platform truck and pushed them up the hill to the tents surrounding the amphitheater. Up and down the hill Frank and I went with the tables and chairs for 90 minutes. During this time, I met PurpleStride volunteer coordinator Marcelino Canuas as our platform trucks passed each other. Marcelino is the husband of Liz Canuas, who is the affiliate chair for the Phoenix Affiliate.
The last task of the afternoon was to set up the event day registration tents. I helped volunteer Karen Caggiano and donor and corporate ambassador Ellen Frank complete this job.  We set up the tables, arranged the boxes of T-shirts, and hung the registration signs. Having only 6-inch zip ties, we got to practice our ingenuity!
Event setup was complete, and several of us decided to go out for drinks and appetizers to celebrate our success. At the get-together, I met Phoenix Advocacy Chair Megan Martin and enjoyed further conversation with Ellen Frank. Ellen has been with the Phoenix affiliate for five years and volunteers in honor of her father, who passed away from pancreatic cancer.
Saturday, April 1
What a beautiful sunny morning! It was a little chilly though, so I needed a task to warm me up! Ellen asked if I could place the mobile trash containers around the venue, and I happily obliged. Two volunteers came over to assist and we quickly finished the task before registration opened. In total, there were 150 volunteers that helped at the event. We were very grateful for the coffee and doughnuts provided at the Volunteer Tent.
While exploring the venue, Martha and I decided that the Why I Stride tent at the top of the amphitheater was a great vantage point for the opening ceremonies. That's where I met Cori Frolander, former event manager for PanCAN. It turns out that Cori had been the event manager for PurpleStride Portland for several years. Her last year in the role was 2013, which was my first PurpleStride attending as a participant. Cori remembered core role volunteer and survivor Cheryl Norman, whose death was my reason for volunteering with PanCAN.
Martha and I walked the 5K route from the civic center to Scottsdale's Continental Golf Club and back with more than 1,800 participants. We said our goodbyes afterward to Angel and Frank and continued our sightseeing adventure in Phoenix. I'm excited to say that the Phoenix Affiliate hit both its participant and revenue goals!
#AndrewStrides will continue at PurpleStride Kansas City on Saturday, May 6. Donate to Andrew's PurpleStride Phoenix fundraising page and search #AndrewStrides on Facebook, Instagram and Twitter to follow his journey.
Wage Hope at PurpleStride, the walk to end pancreatic cancer, by registering for an event near you!