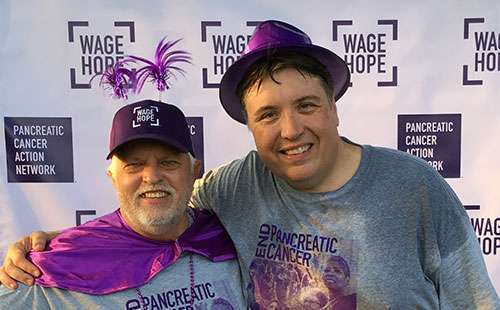 Note: This is the seventh installment in a 10-part series following Pancreatic Cancer Action Network (PanCAN) volunteer Andrew Miller as he participates in PurpleStride, the walk to end pancreatic cancer, throughout the country. For this segment, Miller traveled 1,947 miles to Louisville, Ky., from his home in Portland, Ore. So far, Miller has covered an astounding 10,102 miles during his PurpleStride travels. In this post, he shares his experience at PurpleStride Louisville.
Thursday, August 10
Heather Lilla, donor and corporate ambassador for the Louisville Affiliate, invited me to her house upon my arrival in the city to help prepare for packet pickup. Heather's creativity shined with the handmade name tags tied to each team bag, wrist bands placed in an envelope and candy bar with a thank you card explaining how much the Louisville team captains were appreciated for their team building and fundraising efforts. Wow! I should have enrolled as a team captain for this Stride!
As we finished the T-shirt pull, I noticed large, white paper bags with printed labels for each tent. Each bag contained a volunteer list for that area, plastic tablecloths and a thank you card to the area leader. Clearly, Heather and her husband Paul are so thoughtful and dedicated to the personal relationships they have with their team captains, volunteers and sponsors.
Friday, August 11
I met Paul at a Sysco, and we loaded up the donated oranges, bananas, strawberries, granola bars and water. Thank you Sysco! I followed Paul to the event site. They reserved a wonderful covered pavilion and lawn area. Affiliate Chair Kristen DeSanctis was there along with PurpleLight Ambassador and 12-year survivor Joy Heines. It was great to meet Kristen for the first time and reconnect with Joy whose team I had joined for Louisville PurpleStride. Kristen told me she was expecting 360 participants. Joy, an elementary school cross country coach, expected a large team because she had challenged her neighboring school cross country teams to participate.
We unloaded the food and water donations, while Paul and Event Manager Kelly Papanek went to check on event parking. Upon their return, they asked Kristen and me if we could help drive the electric golf carts to the event area.  Absolutely! After two trips, we had brought over all the carts and it was time to head to packet pickup.
I arrived at Academy Sports + Outdoors just before 4 p.m. and waited out an afternoon downpour. Putting up the tents at the event site was going to be a chore with this weather, but I knew the rental company and Kelly were up for the task. Joy and I both walked into the store as team captains and other Striders started to arrive. Heather and volunteers Sandy Eisenback and Jackie and Gary Vogel had all the shirts laid out and a registration table set up. I knew the routine by now – let's fold shirts!
Susan Jonas and Haven Fletcher from team Connie's Crusaders arrived from their earlier appearance at the Wave 3 News TV studio and are here to help. I have been waiting to meet this powerhouse duo all summer, as they never stop fundraising and raising awareness in memory of Susan's mom, Connie Erickson, who passed away Sept. 12, 2015. They taught me how to put the FUN in fundraising, and this year Susan and Haven have raised $11,000 in wraparound events.
And what packet pickup party would be complete without Mike Linse, the advocacy chair from Oklahoma who drove in, yet again. Everyone was having a good time, but we never forgot why we were here. As we folded T-shirts, Jackie shared her story about her girlfriend Becky Cook who passed away just 142 days before her 50th birthday and her uncle who passed away in February of this year.
Saturday, August 12
I arrived at Beckley Creek Park just before dawn. Then Kelly arrived and shortly thereafter the rest of the Louisville Affiliate key volunteers. We unloaded contents for Volunteer Check-In and moved on to setting up the tables and chairs.
The music began as I headed over to the Wage Hope tent to see how Mike was doing. I met fellow volunteers Jack and Bernice Stengel who Mike had stayed with the night before. Bernice, Jack and Mike had the Wage Hope tent looking fabulous. Mike reviewed the question and answers for the Wage Hope wheel to which I am sure he would add his personal touch.
Elite team Connie's Crusaders tent was right next door, and I stopped by to say good morning to Haven and Susan. They brought along several "Did You Know" fact signs about pancreatic cancer that were placed at each hole at the 1st Annual Connie's Crusaders golf outing in June. Haven explained how they placed a different fact sign at each tee box to remind and educate people who attended their fundraiser.
It was a lovely morning with a picturesque setting, and ended up being the best walk I have had so far this year. Paul and others drove the course many times, checking on the walkers and volunteers. I completed the 5k walk and made it back in time for the medal ceremony for the children and adult run top finishers.
An announcement from the podium told us that PurpleStride Louisville made its goal! Great job PanCAN Louisville Affiliate! I left the venue with fond memories and new friendships that I will cherish. The fall schedule will start soon as PurpleStride Charlotte is just four weeks away.
#AndrewStrides will continue at PurpleStride Charlotte on Saturday, Sept. 9. Donate to Andrew's PurpleStride Charlotte fundraising page and search #AndrewStrides on Facebook, Instagram and Twitter to follow his journey.
Wage Hope at PurpleStride, the walk to end pancreatic cancer, by registering for an event near you!