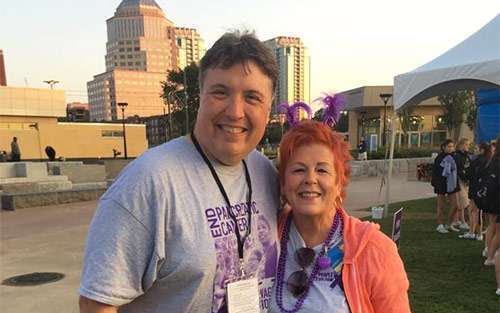 Note: This is the eighth installment in a 10-part series following Pancreatic Cancer Action Network (PanCAN) volunteer Andrew Miller as he participates in PurpleStride, the walk to end pancreatic cancer, throughout the country. Miller traveled 2,279 miles to Charlotte, N.C., from his home in Portland, Ore. So far, Miller has accumulated 12,381 miles through his PurpleStride travels. In this post, he shares his experience at PurpleStride Charlotte.
Friday, September 8
Upon my arrival, I met Las Vegas PurpleStride Chair Renae Egan-Williams for breakfast who is also in town to volunteer for PurpleStride Charlotte. Addie Vroom, regional community engagement manager for PanCAN also stopped by to say "hello" as we finished up. Afterward, I drove Renae over to the venue to meet Charlotte PurpleStride Chair Grace Lynch. Grace arrived when we did and, together, we unloaded her van. I joined fellow volunteer Bryce Cassista sorting the banners and signs and then inserting the metal stakes into the lawn signs. Next, Addie and I headed to packet pickup to pass out event day materials.
Once there, I met Dan Rose who will be running pickup and event registration at PurpleStride on Saturday. We were joined by volunteers Toni Nozar, La'Reuance Allen, Sarah Dunning and the enthusiastic Effie Baily to start folding T-shirts. A little later, Renae asked if the team could use my SUV to pick up items from the Charlotte Affiliate storage unit. Of course! I went back to the venue to accompany Grace, Renae and volunteer Keegan Jindra, and we drove to the storage site, packed up both vehicles and headed back to the venue.
I helped volunteers Bryce, Keegan, Tom Gill and Elaine Christian Smith with venue set up. After setting up the venue, I returned to packet pickup. Key volunteers Patti Weber and Shannon Gardner had met up with Dan and Addie as well as volunteers Wendy Roberts and Mary Geiger. I also had the opportunity to meet volunteers Pat Kirby and her daughter, Angela Hunter.
Pat told me about her husband and Angela's dad, Fred Kirby, who was diagnosed last July with pancreatic cancer. He passed away 10 months later. Their Passion Team, Purple for Paw, had raised over $6,680 in their second year with 31 team participants. Thank you Patti and Angela for your dedication to Wage Hope against this disease.
Saturday, September 9
Five in the morning came rather quickly, but Grace and Dan were already hard at work upon my arrival at the venue. Together, we set up the tables and chairs in the Elite and Passion team area.
Afterward, I walked over to the Survivor/VIP area and met Cortnee Rushlow and her family from Passion Team Donna. They did an excellent job setting up the area – including gift bags and table settings! Tom Gill complimented her on the great job she had done once again this year. I had helped set up tables and chairs for the 57 members of her team!
Later, Shannon stopped to ask me if I would be a Route Marshall. I happily accepted. I was located at the first turn of the course, and I couldn't help but think, "Wow! PurpleStride Charlotte has a lot of runners!" The most I've witnessed at a PurpleStride to date!
After the walk, I turned in my equipment and drove back to my hotel to prepare for my Saturday night flight back to Portland. I look forward to watching the PurpleStride Charlotte videos and recalling the wonderful time we had together.
#AndrewStrides will continue at PurpleStride Portland on Sat., Sept. 23. Donate to Andrew's PurpleStride Portland fundraising page and search #AndrewStrides on Facebook, Instagram and Twitter to follow his journey.
Wage Hope at PurpleStride, the walk to end pancreatic cancer, by registering for an event near you!