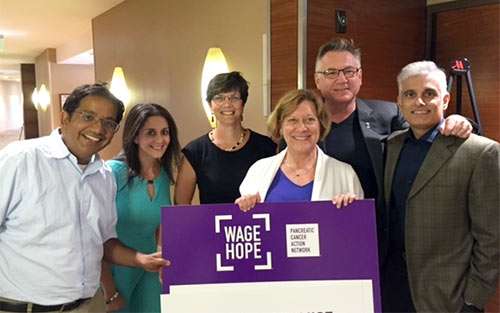 Our Annual Scientific Meeting took place August 18 – 21 in beautiful San Diego, bringing together research grant recipients, current and emeritus Scientific and Medical Advisory Board (SMAB) members, pharmaceutical industry partners and other special guests.
For the second straight year, the scientific meeting took place alongside our annual volunteer leadership training event, allowing interaction between our most dedicated scientists and our relentless volunteers.
"I was very impressed by the Annual Scientific Meeting and the whole Pancreatic Cancer Action Network organization," said Claudia Gravekamp, PhD, associate professor of microbiology and immunology at Albert Einstein College of Medicine and principal investigator of a 2016 Translational Research Grant.
"The meeting was fantastic. The combination of patients, volunteers, scientists, clinicians and industry is very powerful."
The meeting kicked off Friday morning with a general session for all attendees, where grantees and SMAB members were called on stage amid raucous cheers from the crowd of approximately 300 volunteers from across the country. The mutual admiration between the scientists and volunteers was palpable.
"I was so grateful to be invited to this meeting – what a fabulous event," commented Giulio Draetta, MD, PhD, director of the MD Anderson Institute for Applied Cancer Science and the principal investigator of a $1 million Research Acceleration Network Grant awarded in 2014, funded to honor the legacy of Skip Viragh.
He continued, "I'm not used to that sort of attention, though – being onstage with all the cheering and photo-taking was a bit of a stretch for an introverted guy like me!"
Approximately 100 researchers and guests then transitioned to the scientific meeting, which consisted of expert-moderated sessions that highlighted hot topics in pancreatic cancer research and included sharply focused talks and time for robust discussion.
Topics discussed ranged from improving early detection for the disease and understanding how pancreatic cancer cells metabolize (break down) nutrients differently from healthy cells to strategies to harness the patient's immune system to fight off their tumor.
"We were thrilled with the energy and participation in the room," said Lynn Matrisian, PhD, MBA, our chief research officer. "Gatherings like these reinvigorate researchers to return to their labs and clinics and fight even harder against this disease."
The volunteers and researchers came together again on Friday night for a Southwestern-themed evening of delicious barbecue, enthusiastic country line-dancing and opportunities for our early-career grantees to present their projects via poster presentations.
Saturday provided another half-day of scientific presentations, which included an in-depth case report of a project funded by us in its early, basic science phase, and following the project's trajectory to clinical testing and the development of a biotechnology company.
The final session on Saturday focused on personalized, or precision, medicine, and our very own Matrisian was one of the speakers. She discussed our Know Your TumorSM precision medicine service and other highly promising upcoming initiatives being undertaken by our organization.
Following the meeting, Matrisian noted, "It fills us with tremendous hope, knowing that these brilliant and passionate scientists and clinicians are moving us closer each and every day to our goal of doubling pancreatic cancer survival by 2020."