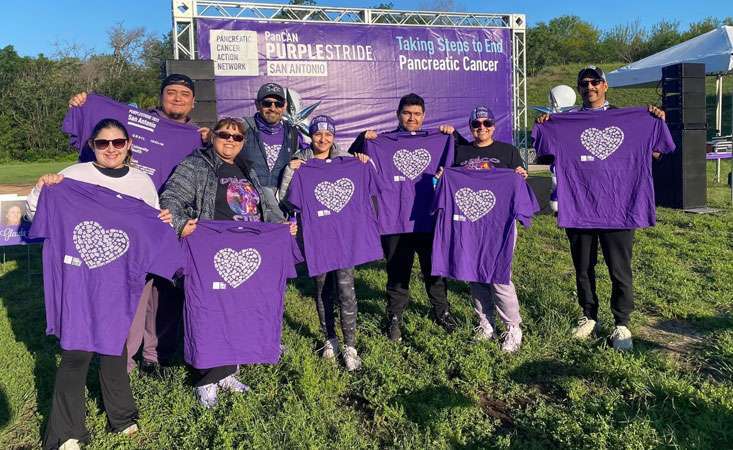 Ruben and Patty Vela know the drive from Laredo to San Antonio, Texas, all too well.
They made the four-plus hour round trip nearly every other week while Ruben was receiving chemotherapy for stage III pancreatic cancer.
During this time, family, friends and neighbors showed up in a big way.
"My oldest daughter helped us with her little sister, and then my mom came to live with us so she can be with my girls because there were so many activities in their lives at that time," Patty said.
Everyone pitched in so the Velas could focus on the task at hand: Making sure Ruben was able to get the treatment he needed and recover.
"They would tell me, 'Don't worry about your family here. We'll take care of them. You take care of Ruben over there,'" Patty said.
Their daughters would arrive home to find pizza delivered or snacks at the ready. Family members would volunteer to drive Ruben to San Antonio when Patty had to work.
PanCAN Patient Services also became a lifeline – they called regularly during the overwhelming days after Ruben's pancreatic cancer diagnosis to understand everything from terminology to treatment options. Now, Patty and Ruben give back to their community by raising awareness of the signs and symptoms of pancreatic cancer, urging everyone, but especially Hispanic men, to pay attention to their bodies and get that annual physical that may help to save a life.
"A Christmas Miracle"
Like so many diagnosed with pancreatic cancer, Ruben's journey began with vague symptoms, in his case acid reflux. He attributed it to late meals after nights playing in a mariachi group for weddings, quinceañeras and other events.
But Patty urged him to go to the doctor and made an appointment for him in May of 2019. That routine physical showed that his blood pressure was very high. His blood work also showed abnormalities. As the doctor tried to figure out what was happening, Patty noticed something alarming: Ruben's skin began to look yellow.
That day he went to work as usual, but even co-workers noticed the yellow pallor to his skin. Then came the call from the doctor, who said to Patty: "Take him straight to the hospital. I need to run other tests, but I need him in the hospital."
Patty convinced him to leave work and do as the doctor requested. They wanted to go to San Antonio – which offers a larger medical center with more resources, but since Ruben was so jaundiced a transfer required hiring a private ambulance to get him there. They persevered in the hopes that all the procedures he would need could be done in one place, instead of multiple appointments at different locations in Laredo.
"It was chaos to get him to San Antonio," Patty said. "Because of all this paperwork, we got there almost two hours late. So we had lost our appointment with the doctor who was willing to see him. He referred us to another doctor for following morning."
First, Ruben received a stent that relieved the pressure on his liver as well as a biopsy that confirmed a stage III pancreatic cancer diagnosis. The oncology team told the Velas that Ruben's best option was the Whipple procedure, but that the tumor needed to shrink before that could happen.
So he immediately started six rounds of chemotherapy. The first round went well thanks to a patch on his skin that help prevent some side effects – Ruben said he felt great – but insurance denied this type of medication for the next chemo treatment. So the side effects kicked in – weight loss, fatigue, nausea, and vomiting. When the tumor didn't shrink enough, he opted for six more grueling rounds. This gave them the results they were looking for – after two denials, he became a candidate for surgery.
"By this time, it was late November, so our bank account was on empty and minus," said Patty. "We were starting to get bills."
They pleaded with the specialist to put him on the schedule for surgery before the end of the year, so that they wouldn't have the expensive procedure subject to the new year's deductible. Ruben remembers when they learned he would be able to have surgery two days before Christmas.
"It was a miracle," said Ruben. "It was a Christmas miracle."
After a successful surgery and more rounds of chemotherapy and radiation – cut short by the beginning of the COVID-19 pandemic in March of 2020 – he's been getting regular scans and has been cancer-free since that time.
Throughout the Vela's journey, PanCAN Patient Services became a trusted partner. They called right after Ruben's diagnosis and stayed in touch with their Case Manager every step of the way.
"We needed an extra person to tell us, 'Yes, you heard correct,' or, 'Yes, this is going to happen,'" said Patty. "Because we were going through an unknown road and we were hitting bumps, and we needed extra protection. I would call PanCAN to get reassurance."
Turning the Town Purple
Now, the Velas are bringing others into the PanCAN community. At PanCAN Purple Stride 2023 San Antonio, Ruben was the featured speaker. With members of Team Ruben's Warriors in the crowd, he recalled how PanCAN Patient Services and their community in Laredo were so important to them.
"I said that if they feel that they're alone, they're not alone," he said. "There's always help out there."
The Velas have volunteered their time in other ways, speaking to local media outlets about pancreatic cancer awareness and the importance of regular physicals, especially for men. They've referred several families in Laredo facing pancreatic cancer to PanCAN Patient Services, and every year, November is a time to turn the town purple. They light their house and walkway purple – one year they even painted rocks purple and decorated their front yard.
They want to reach the Hispanic members of their community with an important message.
"With us being Hispanic, everyone's so proud and they want to do it on their own, but believe me, there's some things that you need extra hands," she said. "Build up the courage to accept and ask for help. It's okay to ask for help."
For Ruben, it was his amazing family, great friends and an army of praying warriors, who gave him the strength to face pancreatic cancer head on.
"Don't think it's over because you got diagnosed," he said. "There's always hope. Continue being positive to continue fighting."