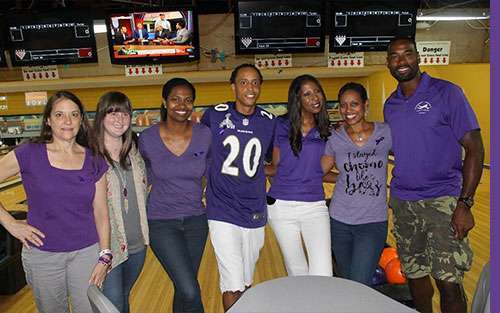 Earlier this month, members of our Atlanta Affiliate turned Midtown Bowl purple at the "Going Purple" Bowl-A-Thon. The affiliate partnered with The Calvin Johnson Jr. Foundation, led by former Detroit Lions wide receiver Calvin "Megatron" Johnson, Jr. along with his mother and pancreatic cancer survivor Dr. Arica Johnson, to spread awareness about the world's toughest cancer.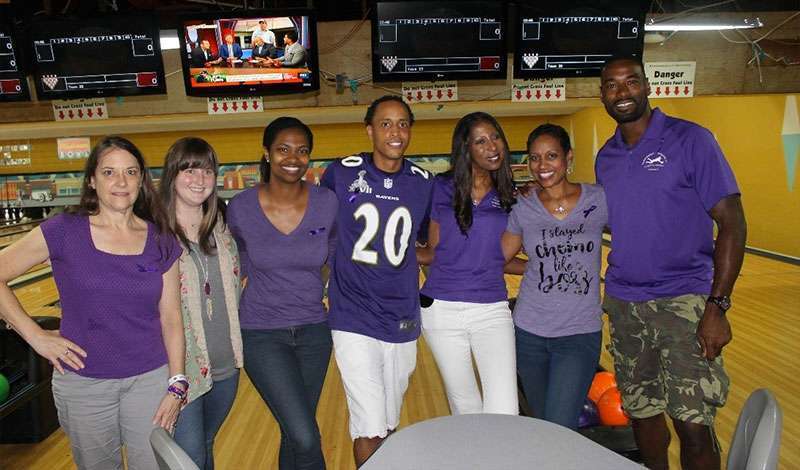 PanCAN Atlanta affiliate members Laurie, Julie, Marcie, Snapper, Dr. Arica Johnson, Teona and Calvin Johnson, Jr.
This was a terrific community awareness event that was also a lot of fun," said Teona Ducre, chair of the Atlanta Affiliate.
"We were able to provide support and additional information to families currently fighting the disease, as well as to people who've lost loved ones."
Ducre, a one-year pancreatic cancer survivor, and Dr. Johnson are both strong advocates for research funding to help find early detection methods for the disease.
"Both of us were fortunate to have our cancer caught early before it metastasized, but more must be done. The pancreatic cancer community is fortunate to have the Johnson family as strong advocates who are helping to Wage Hope in the fight against pancreatic cancer."
We thank The Calvin Johnson, Jr. Foundation for their continued efforts in raising visibility and creating hope for patients and families. You too can Wage Hope against pancreatic cancer by joining the Atlanta Affiliate at PurpleStride Atlanta on November 11, or by joining a PurpleStride near you by visiting purplestride.org.