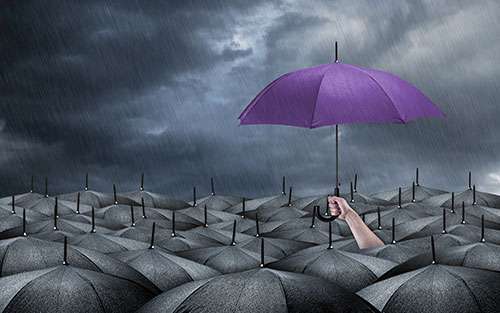 Editor's note: As Hurricane Ian makes landfall in Florida, we are sharing a previously published article giving tips to pancreatic cancer patients who are impacted by hurricanes. If you are in an affected area and have questions, please contact PanCAN Patient Services for free support and resources at 877-272-6226 or by clicking here.
Riding out a hurricane is a difficult feat for anyone living in the affected areas, but living with pancreatic cancer can complicate matters – what will you do about potentially canceled doctors' appointments, delayed prescriptions or treatments or evacuation orders that make travel for care very difficult?
While this can be a frightening time, there are ways for pancreatic cancer patients and their caregivers to prepare now so that managing care in such a large storm becomes less stressful.
Andrew Rhim, MD, is an assistant professor of gastroenterology at MD Anderson Cancer Center in Houston and a Pancreatic Cancer Action Network (PanCAN) grantee. In 2017, he experienced Category 4 Hurricane Harvey firsthand. While Harvey's winds reached 134 mph outside, Rhim worked inside the hospital to ensure patients received the care they needed.
He offers five coping tips for pancreatic cancer patients who may be experiencing the stress of a natural disaster, whether it is a hurricane, earthquake, wildfire or tornado:
The number one priority is to make sure you and your family are safe in the short term. Follow all orders by authorities.
Make sure all contact information, and especially cell phone numbers and email, are updated on the hospital database. Also make sure that your healthcare professionals have additional cell phone numbers from family members in case your cell phone goes down.
Always have your medical records accessible in case you need to seek treatment elsewhere. This should include a list of medications, other diseases and medical problems, drug allergies and history of cancer treatments (including when your last treatment was, etc.).
When a possible disaster comes, be prepared. Pack a bag with your medications, clothes and cash. You can always unpack the bag if you don't need it.
Try to make sure your cell phone, voicemail and email are accessible and are checked every day in case the hospital tries to contact you.
Because hospitals will have a disaster plan in place, Rhim said admitted patients should not worry about their care. Patients arriving in the emergency room with lesser injuries or symptoms might have longer than usual wait times but will be attended to by staff.
The American Cancer Society outlines specific information about coping with cancer after a natural disaster:
How to access treatments
How to get medications
How to deal with loss of medical records
Patients' treatments may be affected by this storm. Try to get in touch with your healthcare team for advice on how to proceed with your treatments, including rescheduling or receiving them elsewhere.
Know that it is OK to miss treatments for a short time if you cannot get in touch with your doctor immediately. In the meantime, continue to take any self-administered medications as prescribed.
In the case of an emergency, pancreatic cancer patients or their families or caregivers should always dial 911.
Below is a list of services and resources that PanCAN Patient Services can provide to pancreatic cancer patients after they are impacted by a natural disaster:
Names of specialists in an unaffected area.
Ways to get in touch with health insurance companies.
Direction to local (e.g., Department of Social Services or Department of Aging) and national (e.g., Patient Advocate Foundation) resources.
Addressing concerns about missing treatments and reminders that safety should be the patient's – and their family's – top priority.