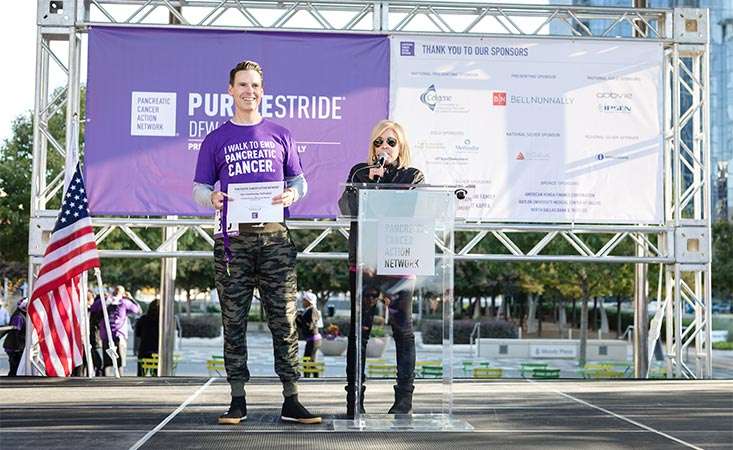 A law firm with a heart.
To some who love a good lawyer joke, this may seem like an oxymoron. But, to those who work at the Bell Nunnally law firm in Dallas, it's a deeply rooted philosophy that touches everything they do.
The firm has been dedicated to giving back to their community for more than 40 years and considers the Pancreatic Cancer Action Network's (PanCAN) annual PurpleStride Dallas-Fort Worth a true Bell Nunnally community event.
"Bell Nunnally cares deeply about being part of the fight to support those afflicted and affected by this serious disease and to contributing to efforts to champion effective treatments," said Christopher B. Trowbridge, a managing partner.
This is the 10th consecutive year that Bell Nunnally will be the presenting sponsor for PurpleStride Dallas-Fort Worth. To date, they have raised $227,820 for PanCAN.
"We were motivated to 'get moving' by the diagnosis of our longtime friend and client Brian Livingston's father, Robert. Although Robert is no longer with us, the fight goes on," said Trowbridge.
He continued, "Beyond this connection in our firm community, over the years we have developed important perspective on pancreatic cancer and deep empathy for all those affected by the disease. No doubt, this is a tough, tough fight. However, groups like PanCAN show that, collectively, we are not giving up or giving in.
"In some ways, we have gone from just that one personal connection through Brian to thousands thanks to our PurpleStride commitment and participation."
Things will look different this year, as all PurpleStride events have gone virtual due to the ongoing pandemic, but Bell Nunnally sees this year, like all the others before, as a chance to make a difference.
"PurpleStride represents resilience and the best in humanity. We see the resiliency in those fighting the disease…Knowing the disease's deadly nature, bringing together a wide cross-section of supporters to lift those fighting, their loved ones who care for them and all the researchers working towards a cure, is a testament to our collective compassion for one another," said Trowbridge.
"PurpleStride provides an important opportunity to participate in the fight for wellness. While we are committed to being careful during this time, we remain dedicated to this important cause. You can't stop us!"
PanCAN is incredibly grateful for everything Bell Nunnally has done in support of our mission to take bold action to improve the lives of everyone impacted by pancreatic cancer.