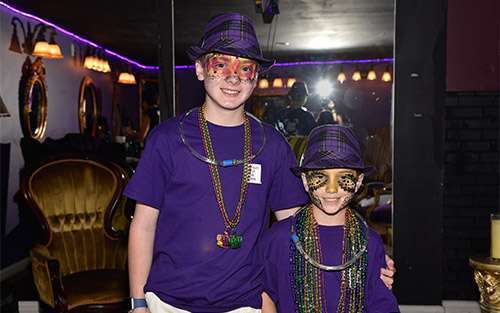 Dedicating one's birthday celebration to fundraise to fight pancreatic cancer is a generous gesture. When two young boys do it for three years in a row, and make it a Mardi Gras Masquerade birthday bash, it is extraordinary.
Spencer and Brayden Neill have been deeply affected by pancreatic cancer. In 2014, they lost one of their grandfathers to the disease five months after his diagnosis. The following year, as they were planning their first big birthday celebration, their other grandfather, Grandpa Merrill, suggested they not receive gifts, but do something good instead. Someone suggested collecting donations for the Pancreatic Cancer Action Network (PanCAN), which the boys' father had discovered in his search for resources. They could help save someone else's grandfather from this terrible disease.
"Both boys have been onboard ever since," said their father, Edwin Neill.
Last year, pancreatic cancer reappeared in their lives. Their Grandpa Merrill, who had made the suggestion to do something good for their birthdays, passed away from pancreatic cancer less than two weeks after being admitted to the hospital, and less than one week after diagnosis.
The Neill brothers' Mardi Gras Masquerade birthday bash is a joyful celebration and provides crucial support for PanCAN in its mission to rewrite the future for pancreatic cancer patients and their families. The first year, the boys collected $1,896. Their second, more than $3,000. And this year, using our Wage Hope My Way fundraising platform, they raised more than $5,300 for PanCAN.
"Trying to convince two young boys to not receive birthday gifts seemed to be a daunting task," Edwin Neill said. "But the boys knew this was so much more important, not only to help those fighting today, but also those who will fight the disease in the future."
Follow Spencer and Brayden Neill's Wage Hope My Way success here.