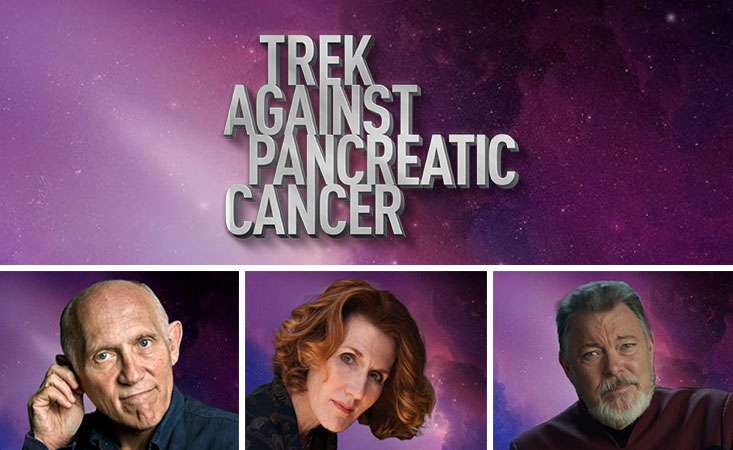 "The human race is a remarkable creature, one with great potential, and I hope that 'Star Trek' has helped to show us what we can be if we believe in ourselves and our abilities." – the late Gene Roddenberry, creator of "Star Trek"
Gene Roddenberry's vision of a better world, with no disease or suffering, and limitless possibility and hope, defined "Star Trek."
"Star Trek" actors Kitty Swink, Armin Shimerman and Jonathan Frakes see the parallels between his vision and PanCAN's own vision, and they're teaming up to support PanCAN in a big way next month.
They are Team Captains of Team Trek Against Pancreatic Cancer at PanCAN's PurpleStride Los Angeles 2021, taking place May 1.
They invite anyone, from anywhere in the country, to join their team or create one of their own (the event is virtual this year).
As their team page says, "No one believes in science and hope for the future more than 'Star Trek' fans, and we invite everyone who can to be part of our PurpleStride LA team. Let's get the pancreatic cancer survival rate way beyond 10%. Let's make it so."
The three have very personal reasons for getting involved with PanCAN.
Kitty, who played Minister Rozahn and Luaran on "Star Trek: Deep Space Nine," is a 17-year pancreatic cancer survivor.
On her PurpleStride fundraising page, Kitty shared, "I am here to offer hope. Hope that it is possible to survive beyond this disease. On March 4, I tweeted that 17 years ago that day I had my Whipple. So many people reached out to let me know I made them think they could survive, too. Or that their mom or brother could. Or that they had lost someone they loved but my story made them feel better.
"So I'm participating in PanCAN's PurpleStride LA 2021 on Team Trek Against Pancreatic Cancer for two reasons – to give people hope, and to raise money and awareness about the risks and symptoms so that more people can survive pancreatic cancer."
Jonathan, who played Commander William T. Riker on "Star Trek: The Next Generation," lost his brother, Daniel, to pancreatic cancer after a short battle with the disease. And Armin, who played Quark on "Star Trek: Deep Space Nine," is Kitty's husband and her number-one fan and biggest support system.
Funds raised for PurpleStride go toward PanCAN's programs and services for patients and families – offered free of charge thanks to donors and fundraisers.
Team Trek Against Pancreatic Cancer has set a fundraising goal of $50,000 and they have already raised half that amount as of today. Let's keep it going!
Anyone who joins their team and raises the most money for PurpleStride LA by May 1 will get to participate in a personal Zoom call with Kitty, Armin and Jonathan.
The Trek team has been featured in the news media since they announced their participation, including on "Good Day LA" morning news program in Los Angeles, and on multiple Star Trek fan sites including:
PanCAN's PurpleStride is a nationwide event held in nearly 60 communities to honor all those affected by pancreatic cancer. We encourage everyone to join an event (it's free to register!) in their community or in another part of the country and fundraise to support PanCAN's programs and services that help pancreatic cancer patients and families. On PurpleStride event day, join our virtual opening ceremony, then walk, ride, run, bike or do anything meaningful to honor a loved one or support the cause.
PanCAN's mission is to take bold action to improve the lives of everyone impacted by pancreatic cancer by advancing research, building community, sharing knowledge and advocating for patients. Funds raised through PanCAN's PurpleStride go toward this mission and are critical as we work to double the survival rate for pancreatic cancer.
Today, the five-year survival rate is 10%. With your support, we're changing the statistics.
Sign up
for Team Trek Against Pancreatic Cancer or for a
PurpleStride
in your area and help us create a world in which all patients with pancreatic cancer will thrive.