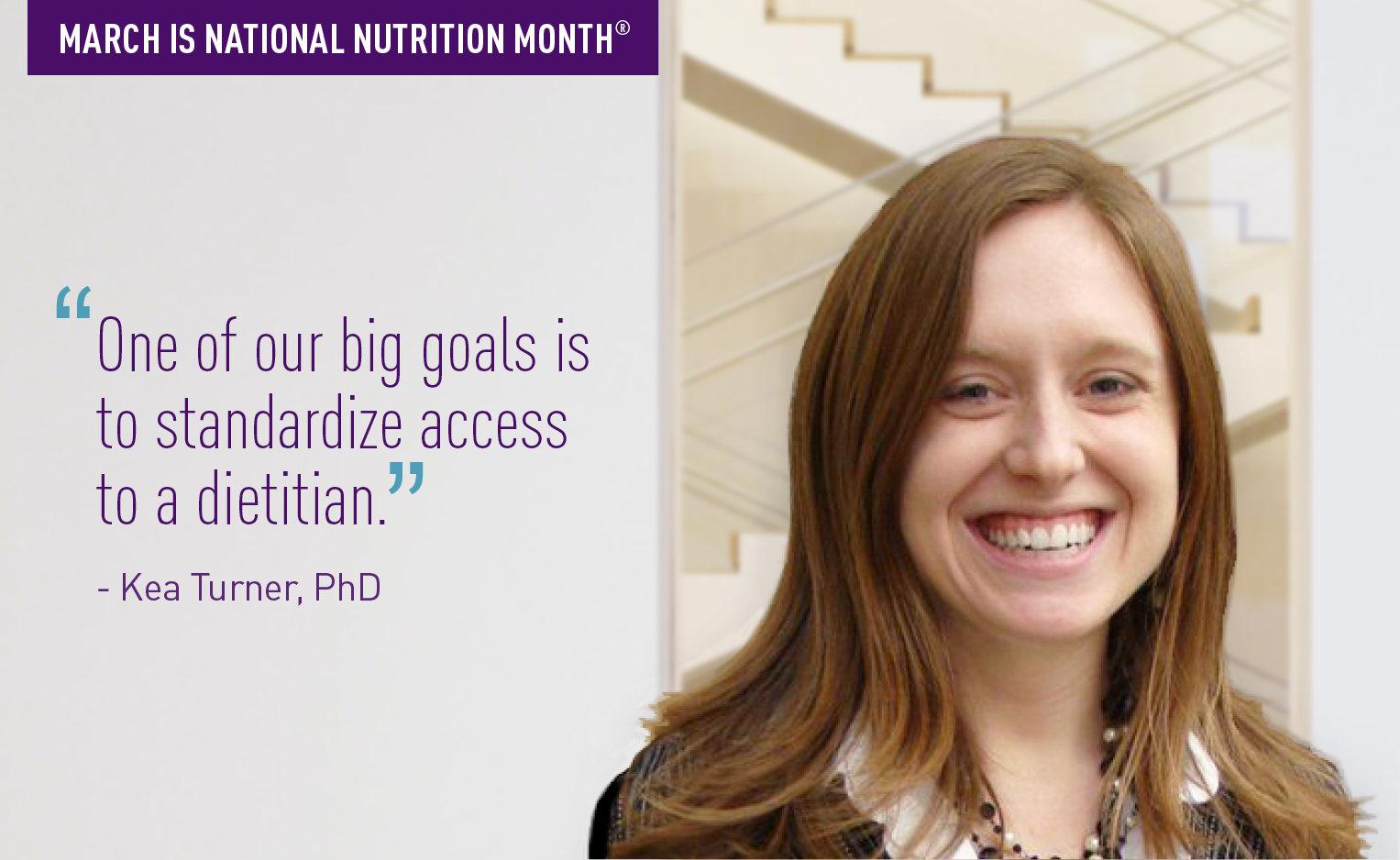 Researcher Kea Turner, PhD, is exploring how technology may help patients with pancreatic cancer prevent malnutrition.
An assistant professor and assistant member at Moffitt Cancer Center and the University of South Florida, she received a 2022 Career Development Award from PanCAN for a project titled "Remote Nutrition Monitoring for Metastatic Pancreatic Cancer Patients."
The grant is funding a pilot trial that involves 50 patients with metastatic pancreatic cancer who are initiating chemotherapy. Half of the patients are enrolled in an eight-week remote malnutrition monitoring program. They receive individually tailored, bi-weekly nutritional counseling from a dietitian via telehealth and remote monitoring through a smartphone app to allow patients to track and share their food intake data with a dietitian in real time. The other half receives usual care, including referral to a dietitian based on physician's discretion.
The goal is to assess whether a smartphone app and telehealth are good options for this type of intervention by looking at things like retention in the study and how patients rate the usability of the app. Dr. Turner wants to know whether this technology can fill a crucial gap for many patients with pancreatic cancer.
"Malnutrition is common among pancreatic cancer patients," said Dr. Turner. "We know that accessing a dietitian can help with malnutrition, but patients' access depends on whether their provider recommends meeting with a dietitian. One of our big goals is to standardize access to a dietitian and access to nutrition support."
For free, in-depth and personalized information on nutrition and to get a copy of our free diet and nutrition booklet, contact
PanCAN Patient Services
.
Patients at all stages – from diagnosis through long-term survivorship – stand to benefit from seeing a dietitian. Dr. Turner plans to look at patients with different needs and risk criteria in the hopes of landing on some guidelines for dietitian support for patients with pancreatic cancer.
The study also assesses whether tracking food intake and sharing that data with the patient's healthcare team is useful.
"We hear from a lot of clinicians that sometimes it's hard to know when to intervene for these patients, because you don't have data on what their food intake is," she said. "The clinic team can log into a dashboard and they can see whether someone has been struggling with meeting their dietary goals."
This may help prompt a more timely intervention.
"Our hope is that we can pinpoint malnutrition sooner and then figure out what the patient may need help with and hopefully treat them faster," she said.
Dr. Turner is hopeful this work will help caregivers for patients with pancreatic cancer, a group that frequently bears much of the responsibility for nutrition. So far in the study, she's found caregivers are often involved with meal planning, food tracking and setting meetings with a dietitian.
"Nutrition can be a source of conflict between the patient and the caregivers," she said. "Are there ways to help the patient and the caregiver facilitate a conversation about planning for nutrition? A lot of caregivers play such a big role in terms of preparing the meals."
Results from this pilot study may lay the groundwork for a larger study to assess how remote nutrition monitoring impacts clinical outcomes such as weight, BMI, muscle mass, gastrointestinal symptom burden, inflammation and overall quality of life.
With master's degrees in public health and education and a PhD in health policy and management, Dr. Turner comes to this study with experience in turning public health recommendations into plans that can be applied in the real world. She's worked for the federal government on implementing public health programs for the Affordable Care Act and is passionate about ensuring equitable access to health care.
Her focus on cancer comes in part from personal experience: She was a caregiver for someone with lung cancer. Their challenges with navigating the medical system prompted her line of research.
"Having been a cancer caregiver, you observe a lot of gaps in care delivery," she said. "That's what made me interested in applying my healthcare delivery knowledge to the cancer space."
The PanCAN grant provides critical funding to get her research started, as results from this study set her up for larger grants down the road.
"The Career Development Award gives me the space to work on pancreatic cancer and this issue," she said. "PanCAN has been instrumental in advancing this line of research."
Donate today
so PanCAN can continue to fund research and provide free support to patients and families faced with pancreatic cancer. Your gift will make a difference in continuing progress.