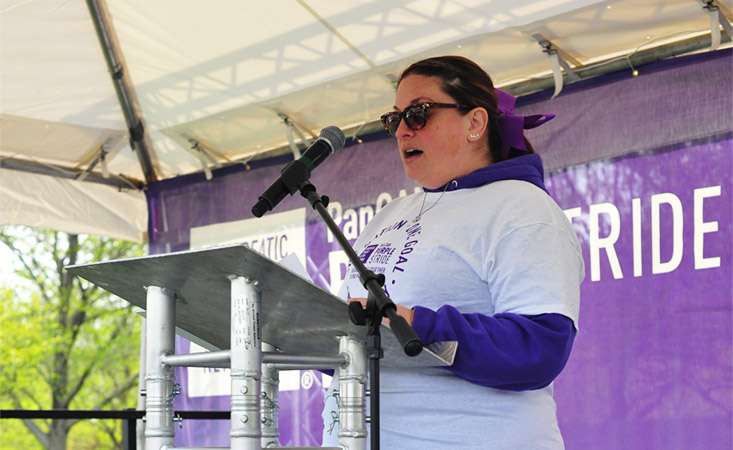 Pancreatic cancer survivor Nicole Taylor told the crowd gathered for PanCAN PurpleStride Chicago that she was a "living testament" to the power of early detection – sharing her gratitude for the doctors and nurses who were there for her during a difficult time. After undergoing the Whipple procedure and embarking on the long road to recovery, she drew strength from friends and family. She also had an "epiphany" during this time that led her to a new calling. Here, we share the inspiring words Nicole spoke at PurpleStride Chicago in honor of her journey and all cancer survivors on this National Cancer Survivors Day.  
Welcome Purple Striders! I want to thank everyone who made it our here today and your participation in this year's walk to raise awareness and fund raise for this cause, one truly near and dear to my heart, the Pancreatic Cancer Action Network.
My name is Nicole Marie Taylor and this is my story. Call it one of those bad news first, good news later stories.  My story starts with one of the worst periods of my life.  By June 2017, I had been living in Chicago for roughly five years, having moved from Michigan City, Indiana, in 2012.  I was 30 years old and was working the overnight shift at Advocate Illinois Masonic Medical Center in Lincoln Park as a pharmacy technician.  One night I started to experience an intense pain in my back on the lower right-hand side.  After three months, the throbbing pain had become a daily constant and decided to have it evaluated by a doctor at an urgent care facility.  Their initial diagnosis was a urinary tract Infection. Having had this previously, something in the diagnosis didn't feel right. The symptoms of my current condition did not match those of a previous UTI.  But I dutifully followed the doctor's orders and took the prescribed medication, mainly antibiotics.  After several weeks of this, nothing had improved. Working with the prescribing physician, I managed to convince them to give me a CT scan.
That CT scan changed the course of my life -- in both bad, but eventually good ways.  The results of the scan found a 4.5 cm mass located on the body of my pancreas.  This was followed by a confirming MRI and an ERCP to take tissue samples and determine if the tumor was benign or malignant.  Much to my relief the results of that test revealed that the 4.5 cm mass was benign.  Nevertheless, the growth was still causing me considerable and constant pain, so at the advice of my doctors I decided to proceed with the surgical option to remove the benign tumor.
My surgery was scheduled for December 2017 on a Monday.  The Friday before, when the surgery team was reviewing my previous scans, they discovered the thing that would change my life forever: a second smaller tumor, about 2.5 cm in length, on the head of my pancreas.  This second tumor would prove to be malignant and was only found through discovery of the first benign tumor.
Over the course of the next month, the surgery team, led by Dr. Ajay Maker, went back to the drawing board and developed a new plan. They would perform a procedure known in medical circles as the Whipple procedure. Regardless of the procedure, I was terrified and wading into uncharted waters.  I could not imagine what the rest of my life would be like if I survived the complex surgery that would remove most of my pancreas, my gallbladder, my spleen, and several inches of my small intestine.  Would I be able to live a normal life? Would I be in chronic pain? Would I spend the rest of my life in and out of hospitals? Would I ever be able to eat actual food again?  All of these thoughts raced in my brain. I cried . . . a lot.  I surrounded myself with family and drew courage from their love.
The surgery was performed on February 5, 2018.  Through the careful, skilled and life-saving work of Dr. Maker, the surgery was a success.  The next six months were the most difficult of my life as I had to learn to walk and to eat. My body had to learn how to digest food again with some parts missing and I had to learn had to manage my blood sugar externally, as my remaining pancreas could only provide a minimal amount of insulin.  As I crawled back to health, I had help and an epiphany.  I was so impressed with the care and professionalism of my post-operation nurses that I decided that I wanted to make nursing my life's pursuit and repay the karmic favor that those nurses provided for me.
Here I am five years later, a survivor, in remission, of a cancer that used to be 99% fatal, but thanks to efforts from PanCAN and related organizations it is now up to 12% survival and heading higher with each passing year.  Why did I survive when so many others afflicted with this terrible disease do not?  The best answer that I can come up with is early detection, in my case an accidental but extremely lucky early detection.  I am a living testament to the mantra of many cancer-related organizations, "early detection saves lives."
In December of last year I graduated (with honors) with my associate's degree in nursing from Malcom X College, passed my nursing board exams this past March, and will soon be attending Ohio State University for my bachelor's degree in nursing with a specialization in oncology nursing.  My hope is that I can be as good as those nurses who brought me back to life and health. The gift of life is a gift that can't accurately be measured.
This was my journey and through it all, the love and support of my family and friends were critical in giving me the strength to handle the shock of discovery, the fear of surgery, and the long road to recovery.
By
making a donation today
you're taking bold action to improve the lives of everyone impacted by pancreatic cancer. Your gift will advance scientific research, build community and make vital information available to patients.