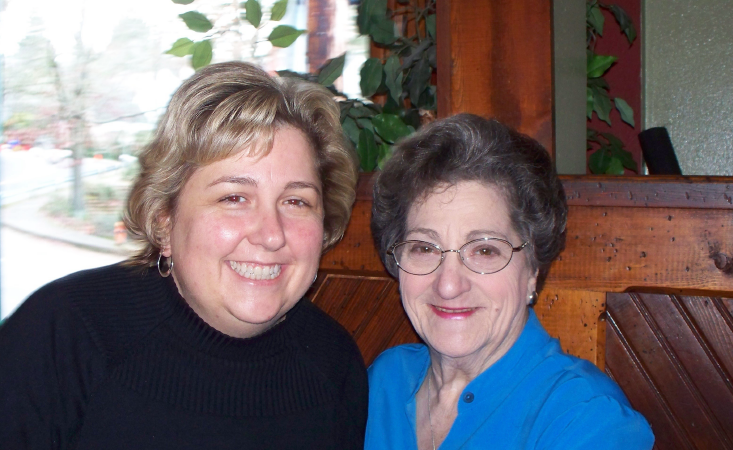 Caring. Big heart. An innate ability to connect with others and find joy in the simple moments.
This is how Lisa Kulok remembers her mom, Carol Kulok, who died from pancreatic cancer in 2016.
It's a spirit that lives on in the Carol Kulok Award for Compassion, given annually to one member of the PanCAN Patient Services team who has gone above and beyond in service to patients and their caregivers.
This year, Patient Services Senior Case Manager Abigail Dominguez received the award, a two-year veteran of PanCAN who embodies many of the same characteristics Carol brought to her life. In announcing this year's winner, Lisa praised Abby's leadership and knowledge of pancreatic cancer as well as her warmth, compassion and empathy.
"Abby has a strong ability to tune into the emotional needs of individuals," Lisa said. "I know that my mom's spirit is alive and well through everything Abby is doing to help others affected by pancreatic cancer."
When Abby received the award, she thought of her own mom, who died from cancer when she was in high school. That early experience shaped her life path – prompting her to seek out a degree in social work and a career working specifically with patients facing a cancer diagnosis.
"I lost my mom to cancer and since then I've been passionate about helping people who are in the same shoes," Abby said. "Our health care system is super complex. It's hard enough dealing with a diagnosis like cancer without also learning to navigate the system. It can be stressful."
As a case manager, Abby speaks with patients and family members every day seeking information about diagnosis and treatment options and so much more. Many turn to PanCAN during uncertain times seeking connection and community – and Abby meets them with kindness and a willingness to listen. The award reinforces her commitment to the work; she calls it a "privilege and an honor" to be part of Carol's legacy.
"I do feel like I am able to help people," said Abby. "I know I'm in the right job in the right field."
For Lisa and her mom, PanCAN became a guiding force as they navigated the ups and downs of Carol's diagnosis, bringing them together with others facing the disease to take action. In their home state of California, they twice participated together in PanCAN PurpleStride, a tradition Lisa continues as a premier sponsor for PurpleStride Orange County and as a team captain for "Carol's Purple Crusaders."
Lisa praises PanCAN Patient Services for the wealth of information they provide to patients – but perhaps most importantly – for the hope and human connection case managers like Abby offer.
"The value of Patient Services to the patient, the family and the caregivers is immeasurable," Lisa said.
She generously supports PanCAN's Patient Services, a program that wouldn't exist without donor dollars.
As Abby continues her work, she knows she'll continue to show up every day for patients and caregivers – relationships that extend through a diagnosis and beyond. Every conversation, every connection, is part of a larger fight to create a world in which all pancreatic cancer patients thrive.
"We are another layer of support, an extra layer, I like to say," she said. "We aren't just for people currently battling cancer. Family members who have lost someone to the disease can find hope in the work we are doing as an organization on all fronts, including research, advocacy and patient support. We're continuing to try to beat the odds – there is progress."
Contact
PanCAN Patient Services
to learn more about treatment options for pancreatic cancer patients, including a personalized clinical trials search.