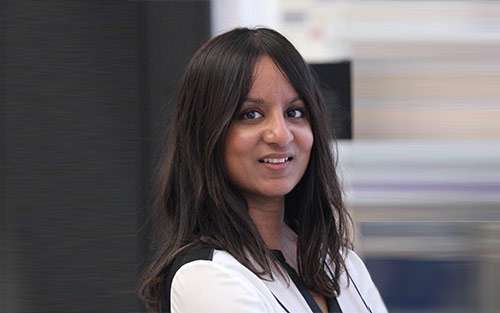 Every morning, Rushika Perera, PhD, heads to her lab in San Francisco, eager to explore the biology of pancreatic cancer. She and her team hypothesize that lysosomes – tiny, acidic organelles that have long been dismissed as a "cellular dead end" – play a key role in pancreatic cancer cell survival and progression of the disease.
An assistant professor of anatomy at the University of California, San Francisco, Perera has spent the last year and a half building up an interdisciplinary group of researchers and partner labs. They're working together to develop strategies targeting the lysosome that could reverse the progression of pancreatic cancer, the nation's third leading cause of cancer death.
Perera's research is funded by the Pancreatic Cancer Action Network's 2016 Skip Viragh Career Development Award. In 2016, PanCAN awarded 19 research grants and two travel scholarships to researchers across the United States.
"There is an urgent need to understand this cancer at a fundamental level and to identify novel strategies to revert its progression," Perera said. "This is a major challenge that will rely on our ability to attract more scientists who can contribute their unique perspective to this problem. I feel the climate today is more welcoming toward women in science, but there is still more we can do to recruit and retain young women in STEM (science, technology, engineering and math) positions."
Although women make up half the global workforce and earn more college degrees than men, research shows that they make up only 27 percent of the workforce in STEM fields. Still, from groundbreaking researchers to advocates of STEM, history is rife with women who have contributed to science in remarkable ways.
Many of them have also been touched by pancreatic cancer.
The first and only woman to ever win the Nobel Prize for economics, Elinor Ostrom was known for challenging the norms in her field. In 2012, she died from pancreatic cancer. She was 61.
Sally Ride broke major barriers in 1983 as the first American woman in space. But she was also a lifelong supporter of science education. She created NASA's EarthKAM project, which let middle school students take pictures of Earth using a camera on the International Space Station, and taught future scientists at the University of California, San Diego.
After leaving NASA, Ride continued to advocate for science education — especially for young girls — until her death from pancreatic cancer in 2012.
"I never went into physics or the astronaut corps to become a role model. But after my first flight, it became clear to me that I was one," Ride said in her now-famous quote. "Young girls need to see role models in whatever careers they may choose, just so they can picture themselves doing those jobs someday. You can't be what you can't see."
To explore other pancreatic cancer researchers who are making an impact, view our 2016 research grant award winners. If you're looking for a way to help support pancreatic cancer research, hold your own Wage Hope My Way fundraiser or attend a PurpleStride run/walk in your city.