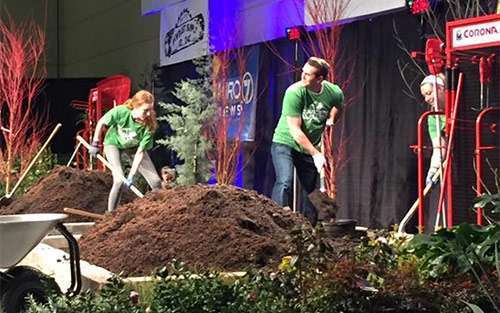 Earlier this year, volunteers with the Puget Sound Affiliate had the opportunity to partner with KIRO-TV for a unique fundraising opportunity! Liz Jurcik, a pancreatic cancer survivor and PurpleStride co-chair for the Puget Sound Affiliate, shares the details below as a guest contributor.
Each year, KIRO-TV (our exclusive media sponsor for PurpleStride Puget Sound) participates in a competition event in advance of the Northwest Flower and Garden Show called "Garden Wars." During the competition, two, three-person teams compete for 60 minutes to create landscapes within their designated 10×10 space. The show provides identical plants and hardscape materials for each team to work with. After the time is up, judges select the winner and the show makes a $1,000 donation to the winning team's selected charity. The runner-up receives $500 to their selected charity.
KIRO-TV approached us with the opportunity to have two volunteers participate in the "Garden Wars," and in exchange, PanCAN would receive the donation. Naturally, we jumped at the opportunity!
Elizabeth Brandt (my fellow PurpleStride co-chair) and myself teamed up with KIRO-TV weatherman Nick Allard, rolled up our sleeves, and got to work.
We knew that this would be a challenge, but it ended up being way more difficult than we had anticipated. To make it even more challenging, additional "speedbumps" were introduced into the competition. For example, at one point the team wasn't allowed to speak to each other for five minutes!
Thankfully, we had a HUGE cheering squad that gave us pointers along the way; especially because we do not have much landscaping experience.
In the end, the speedbumps didn't slow us down the judges awarded us second place! With sore arms and a huge smile, we accepted a $500 donation for the organization.
The most meaningful moment for me was when a fan came up to us after the competition. As she gave us both a hug, she shared that she is a one-year pancreatic cancer survivor. After all, it's about connecting the dots and, in this case, color coordinated plants!
To learn how you can create your own unique fundraiser, visit our Wage Hope My Way landing page.