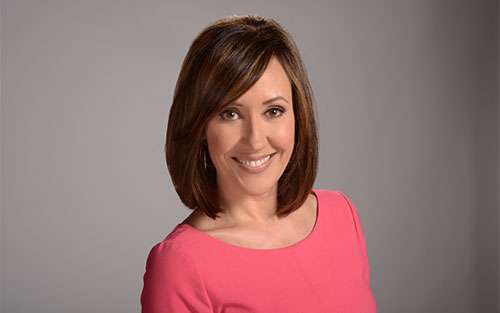 Editor's note: Watch Maureen's interview with Carolina Panthers Head Coach Ron Rivera as he talks about the second anniversary of his brother's death from pancreatic cancer, the need for federal funding for cancer research and PurpleStride Charlotte.
CBS affiliate news anchor and avid PanCAN supporter Maureen O'Boyle has dedicated her time to help raise awareness in Charlotte, N.C. for pancreatic cancer –  the world's toughest cancer. Over the next few weeks, O'Boyle will be highlighting people affected by the disease in a 15-episode web series featured on www.wbtv.com/purplestride leading up to PurpleStride Charlotte, the walk to end pancreatic cancer on September 9.
"It doesn't get a lot of headlines. It doesn't get a lot of attention," O'Boyle said. "And awareness is one of the reasons – and ways – we'll get funding to help find early detection and ultimately find a cure."
Individuals highlighted include Mark Weber, Media Relations Chair of the Charlotte Affiliate who lost his father-in-law in 2005. Sadly, pancreatic cancer struck his family once again in 2012 when his mother died just five months after diagnosis.
"Up until 2004, I didn't know anyone with pancreatic cancer, and then all of a sudden, it came knocking on my door," Weber said. "Volunteerism is a way for us to channel our grief, put it into action and not feel so helpless."
O'Boyle also interviewed Grace Lynch, PurpleStride Chair, who lost her niece Carmen to pancreatic cancer.
"Carmen was an amazing woman – we were only two years apart in age, so she was like a sister to me in a lot of ways," Lynch recalls.
She passed away just four-and-a-half months after diagnosis, leaving behind her daughter Ashlynn.
O'Boyle also spoke with Reza Nazemzadeh, MD, medical oncologist at Carolinas HealthCare System's Levine Cancer Institute about how the pancreas works and pancreatic cancer symptoms and risk factors.
"Pancreatic cancer is unique in the cancer world.  It's a stubborn cancer," said Nazemzadeh.
But he did offer words of encouragement.
"It comes down to HOPE in my world. You say 'pancreas cancer' and it immediately engenders fear, lost hope. We can't have that attitude. We need to push, we need to be loud, we need to raise funding, we need to do more. We can't give up. We can't throw in the towel because it's hard to do. That's the key."
Register today for PurpleStride Charlotte, the walk to end pancreatic cancer, at purplestride.org/charlotte. To find a local PurpleStride near you, visit purplestride.org.