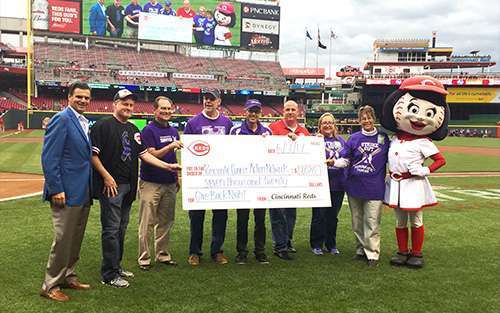 Pancreatic cancer survivors Maurice Bason and John Beck showcased their athletic abilities at the Cincinnati Reds' game on June 7 for "Give Back Day" at Great American Ball Park. Maurice took the mound and delivered the ceremonial first pitch, while John acted as his catcher.
Maurice grew up in the U.K. and noted that he was unfamiliar with America's greatest pastime, until he attended the Reds' Pancreatic Cancer Awareness Night game in 2012. Since then, he has continued to enjoy the annual event and was honored to be invited to throw the first pitch. While it was exciting for Maurice to be in the limelight, what made the experience truly special was partnering with a fellow survivor.
"The best part of the night was teaming up with another survivor," Maurice explained. "John played catcher and made my pitch look good! It was a tremendous experience for both of us as pancreatic cancer survivors."
The Cincinnati Affiliate raised $7,050 through the fundraising event, which the Red's presented before the first pitch. Watch the video of the check presentation and first pitch.

Do you have a creative idea for a fundraiser? Visit www.pancan.org/diy to learn how you can Wage Hope your way!