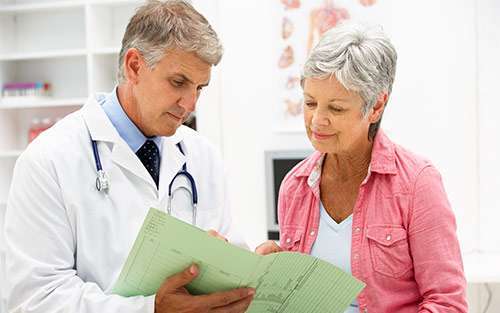 Making treatment decisions may be overwhelming. We want to make sure you have the information you need, every step of the way. In the fight against pancreatic cancer, clinical trials often provide the best treatment options. Here are some steps to help you consider clinical trials at every treatment decision.
Step 1: Consider Clinical Trials at Diagnosis
If you choose to begin with a standard treatment, you may be restricted from participating in certain clinical trials. Every trial has enrollment guidelines that must be met in order to participate. Approximately 35 percent of currently enrolling trials require that a patient does not have prior treatment.
Considering clinical trials at diagnosis will give you access to the most complete set of treatment options available to you.
Step 2: Get Personalized Treatment Options Now for Your Next Treatment Decision
Our Know Your TumorSM personalized medicine service provides eligible pancreatic cancer patients and their oncologists with information about the biology of their tumor. The report also offers personalized treatment options, including appropriate clinical trials.
Participating in this service gives you and your healthcare team the information you need to immediately make your next treatment decision.
Step 3: Consider Clinical Trials for Future Treatment Decisions
Clinical trials are valuable treatment options at every stage of the disease.
If you were able to participate in Know Your Tumor, you and your healthcare team will have personalized information to help immediately select your next treatment, based on what may work best for your tumor.
If you have not participated in Know Your Tumor, we can run a personalized clinical trials search that matches your needs.
---
We maintain the most comprehensive and up-to-date database of pancreatic cancer clinical trials available in the United States. You can access this free information through our PanCAN Patient Services Case Managers or by starting your own search using our Clinical Trial Finder.
Our PanCAN Patient Services Case Managers are available to talk through your personalized clinical trials information. They can provide in-depth details and answer any questions you may have. Then, you can discuss search results with your healthcare team to determine if a clinical trial is the right option for you.
We're always here to help. Contact a PanCAN Patient Services Case Manager for in-depth details about clinical trials and to get your questions answered. Case Managers are available Monday – Friday, 7 a.m. – 5 p.m. Pacific Time.