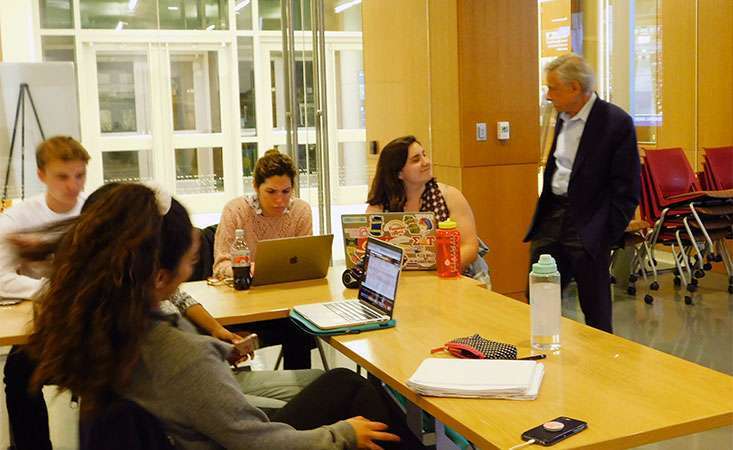 What started off as a public speaking project inside an American University classroom became an opportunity to raise critically needed awareness and funding for the Pancreatic Cancer Action Network (PanCAN).
When public relations senior Sam Carroll received the persuasive speechwriting assignment, she knew exactly who and what she'd write about. In her speech, she talked about her grandmother, Carolyn Calandro, who was diagnosed with pancreatic cancer in 2013 and the role PanCAN plays in providing services to pancreatic cancer patients, survivors and caregivers. The persuasive part of the assignment moved students enough to vote it one of the three winners.
"This speech made me think about the connection I had with my grandma," said Carroll of Calandro, who passed away in December 2017. "It helped me think a lot more about our relationship than I had since she died. I also learned how much I enjoy writing."
The project is the brainchild of Bob Lehrman, a political speechwriter and speechwriting professor at the university. At the end of each semester, he and his co-teacher, Eric Schnure, former White House speechwriters for Vice President Al Gore, challenge their students to write and perform a persuasive speech using all of the skills they obtained in his class. The students each donate $5 or $10 to a collective pot. Their teachers match it, they perform their speeches and listen to those of their classmates, and then everyone votes on the top three performances. While the winners walk away with the money, they don't get to keep it. Instead, they donate it to the charity they spoke about.
"I love this assignment," Lehrman said, careful to say he didn't invent the assignment but got the idea from a book of great class projects. "The students take something very personal and talk about a charity working to help the cause in front of the class for three minutes. I've been doing this project for eight years. You'd think I'd be jaded after nearly a decade of doing this, but I'm not. I can feel that I'm choking up after these speeches."
Carroll won third place for her speech about her grandmother and PanCAN's role in the pancreatic cancer community. She donated the winnings to PanCAN. She said while her grandmother wasn't able to hear the speech and won't be able to see her graduate, she would be incredibly proud of the person she's become.
"She was one of the most loving and accepting people I have ever known, said Carroll of Calandro. "She was a really good example of someone who grew up in a different time but chose to progress and adapt. She was such a unique figure in that way. And also, she knew how to throw a really good party."
Turn your passion into progress – host an event, donate your birthday, or create a tribute page for a loved one through
Wage Hope My Way
. Your support is vital in the fight against the world's toughest cancer.