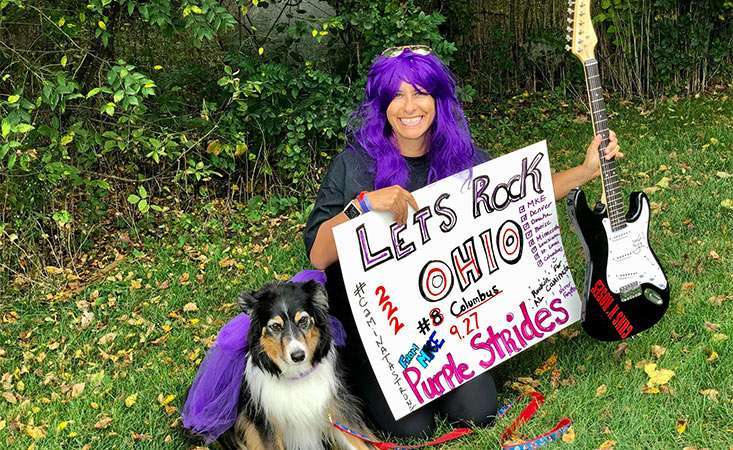 Sunday, Sept. 27 saw the return of Hexion as presenting sponsor for PurpleStride Columbus. Ohio-based Hexion has felt the impact of pancreatic cancer within its own ranks too frequently. It's what reinforces their commitment to the Pancreatic Cancer Action Network (PanCAN), PurpleStride and the entire pancreatic cancer community.
Hexion President, Chairman and CEO Craig Rogerson lost his late wife, Cari, to the disease more than 10 years ago, and 25 years before that, Cari's mother.
"I was both angry at, and frustrated by, the lack of apparent progress in either detecting or treating the disease over that 25-year period," Rogerson said. "I was also worried about the potential hereditary link and what impact that could have on my kids and grandkids."
Years ago, he learned about PanCAN through PurpleStride Philadelphia and was impressed by the organization's comprehensive approach to fighting pancreatic cancer: to improve life expectancy through funded research, community engagement, government advocacy and patient and caregiver support. In 2016, Rogerson joined PanCAN's board of directors.
Personal connections drive the company's associates to support PanCAN's PurpleStride. Three members of the Hexion family have been lost to the disease, leading associate Paul B. to say, "That's three too many."
Associate Karen V. talked about discovering an IPMN tumor on her pancreas. "I'm thankful it is currently benign, and I do not dwell on the risk, but the chance that the tumor could progress to pancreatic cancer is real and I must continue to treat it very seriously," she said.
Presenting sponsor Hexion is an organization with a deep history of community outreach and associate engagement, recently achieving 95% site participation with its outreach activities including approximately 7,000 employee volunteer hours.
Underscoring the company's commitment to PanCAN and PurpleStride Columbus, Team Hexion set a fundraising goal of $5,000 for PurpleStride Columbus, in addition to their presenting sponsorship. And while Virtual PurpleStride Columbus is in the books for 2020, there's still time to donate to fund life-changing programs and services for pancreatic cancer patients.
Rogerson's engagement with PanCAN has made him more optimistic as he looks ahead.
"I am convinced that progress is now being made and hope that outcomes will be different for future patients due to the research being done and breakthroughs achieved," he said.