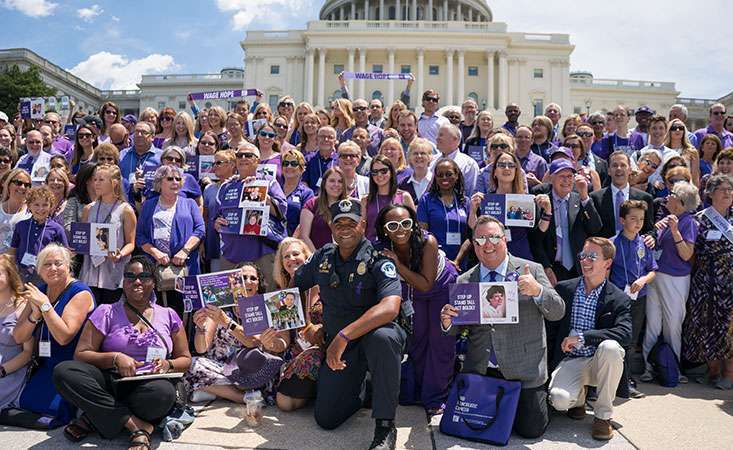 Pancreatic cancer research achieved a big win in the nation's capital when the 2018 omnibus bill was passed last week appropriating the largest increase for medical research in more than a decade. On March 23, Congress authorized a $3 billion increase in funding to the National Institute of Health (NIH), $275 million to the National Cancer Institute (NCI), and $80 million for the Department of Defense's Peer-Reviewed Cancer Research Program (PRCRP). This continues the strong bipartisan support lifesaving medical research received from Congress the previous two years.
Federal funding for pancreatic cancer research is integral to increasing survival rates. In fact, 80 percent of pancreatic cancer research funding comes from the federal government. Currently, pancreatic cancer is the third leading cause of cancer-related death in the U.S., and it has the lowest survival rate of the top five cancer killers. By 2020, it is predicted to become the second leading cause of cancer-related death.
Through scientific research and advocacy efforts, the Pancreatic Cancer Action Network has set the ambitious goal of doubling survival by 2020.
While most of pancreatic cancer research funding comes from the NIH, since 2011, pancreatic cancer has been eligible for funding as part of the Department of Defense's (DoD) PRCRP. Funding through the DoD provides for more high-risk, high-reward research projects critical to a deadly disease like pancreatic cancer. In fiscal year 2018, Congress passed increases for both the NIH and DoD, critical sources of federal research funding.
At every step of the way, thousands of Pancreatic Cancer Action Network (PanCAN) advocates acted to ensure their members of Congress knew they were counting on them to prioritize federal research funding.
"The work of our more than 10,000 dedicated advocates who called, emailed and met with their members of Congress was the key to these across-the-board increases for medical research funding and contributed to the continued growth of the PRCRP," said Julie Fleshman, JD, MBA, PanCAN president and CEO. "We applaud this increased investment and the additional opportunities it brings to advance pancreatic cancer discoveries."
While this is an important step forward, Congress is already working on a budget for the 2019 fiscal year. Please join PanCAN in Washington, D.C., June 18-19 for Advocacy Day to thank your members of Congress for their increased investment in medical research funding and to convey why more resources are needed to fight the world's toughest cancer.