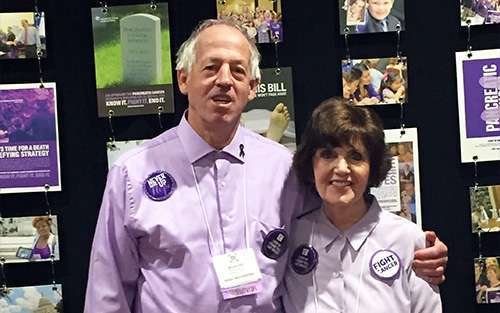 Editor's note: For each of us involved in the cause, it started with someone — the reason we were compelled to get involved with the Pancreatic Cancer Action Network (PanCAN) and change the story of pancreatic cancer. Today we are republishing a story about pancreatic cancer survivor Bruce Hill and his wife, Linda, also a cancer survivor. The Hills are attending National Pancreatic Cancer Advocacy Day in June for the second straight year. Their "someone?" Each other, as well as other cancer survivors -- including those they will reunite with at Advocacy Day.
Bruce Hill's chemotherapy regimen was set to begin the week he was to be in Washington, D.C., for the 10th anniversary of National Pancreatic Cancer Advocacy Day. Concerned, the one-year pancreatic cancer survivor discussed the scheduling conflict with his oncologist.
The doctor's response? "We can postpone your chemo for a week. You have to go to Advocacy Day – you are doing this to fight for yourself, as well as for a lot of other people," he told Bruce.
So, along with his wife, Linda – a two-year kidney cancer survivor – Bruce went to Washington in mid-June, joining nearly 100 other survivors of the world's toughest cancer. It was their first time going. Close to 700 people were in attendance.
"It was an honor to be there," Bruce said after arriving back home from the trip. "Seeing 100 survivors all together was, for me, like seeing the 100 greatest people in my life. Look, no one wants cancer. But I felt so good about myself there. It gave me hope."
Bruce was diagnosed exactly one year after his wife's cancer diagnosis. He had the Whipple surgery, chemo and radiation and had been doing well. A recent CT scan revealed a small mass on his stomach, though, so another round of treatment has begun.
"We knew nothing about pancreatic cancer until we looked online and found PanCAN," Linda said. "Patient Services was such a big help. Then we learned there was a need for volunteers in Northern New Jersey, about 45 minutes from us, and we went to a volunteer affiliate meeting. That group changed our lives. Their support has been unbelievable."
At Advocacy Day, the Hills said they would never forget walking into the hotel where advocates from all 50 states had gathered, and seeing more purple shirts than they'd ever seen.
"I was in shock," Bruce said. "That memory will stick with me for the rest of my life."
So will the stories.
Bruce said he wasn't nervous about sharing his own story during meetings with his congressional leaders, and he was moved by those of others. "Now more than ever, I know that my heart is leading me to raise money for research.
"Growing up, my mother taught me to do a good deed a day to help someone else. That's what Advocacy Day was about."
Linda agreed. "It reminded us to step outside our bubble and that there's strength in numbers. There were a lot of tears over those few days, but it was also uplifting to see everyone gathered for the same purpose. You think you're the only one, and then you realize you're anything but alone."
After a packed day of congressional meetings – during which they barely had a moment to grab a bite to eat – the Hills were exhausted from the intensity and weren't sure they could do it again next year.
But the next morning, as they readied to leave, they were reconsidering.
"We found ourselves saying to each other, 'When we come back next year…'" Linda said. "And we may even bring our five-year-old grandson."
Step outside your bubble and get involved today. There's strength in numbers!