The saying, "Everything's bigger in Texas," holds true for our passionate pancreatic cancer community in Dallas-Fort Worth (DFW).
Earlier today, survivors, community leaders and corporate partners from the DFW area mixed and mingled at the Leadership Breakfast to kick off PurpleStride DFW, taking place on Nov. 11 at Klyde Warren Park.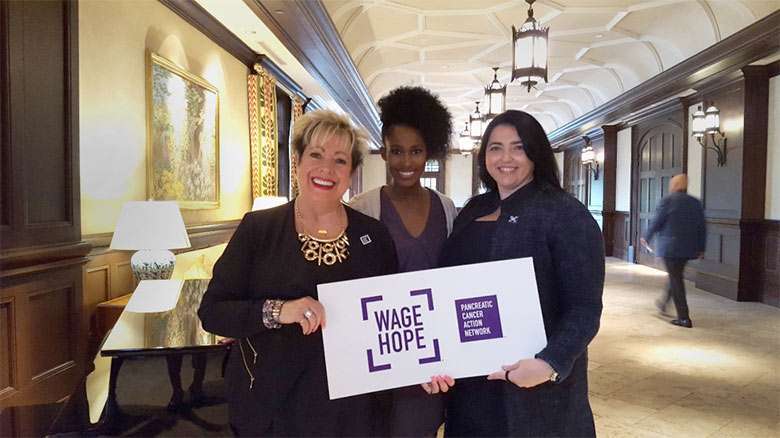 PanCAN Founder Pamela Acosta Marquardt, Jacie Scott and PanCAN Chief Medical Officer Victoria Manax Rutson
Guest speakers included our founder Pamela Acosta Marquardt, chief medical officer and Dallas resident Victoria Manax Rutson, MD, longtime pancreatic cancer survivor and immediate past chair of the PanCAN Board of Directors Laurie MacCaskill, former Dallas Cowboys cheerleader and Influencer of Hope Jacie Scott and CBS 11 senior investigative reporter Ginger Allen, who lost her sister-in-law to the disease.
"When I started this organization in 1999, we had no employees and no programs or services, but we had a will and a passion to grow a movement," said Marquardt, who founded PanCAN after her mother died from the disease. "We are all inspired by the groundbreaking work being done across the country and right here in DFW. Your passion and commitment to this cause is what will help us reach our goal to double survival by 2020 and improve patient outcomes."
Texas – where more than 77,000 PanCAN constituents reside – has played an integral role in changing the course of this disease. In fact, Texas-based researchers have received over 10 percent of all the research grants we have awarded since 2003.
Grant recipients include three-time grantee David Boothman, PhD, and Muhammed (Shaalan) Beg, MD, both from UT Southwestern.
Doctors Boothman and Beg developed a novel "one-two punch" combination therapy that tricks pancreatic cancer cells into poisoning themselves and then stops the cells from self-repairing the damage. The combination therapy will enter clinical trials this year.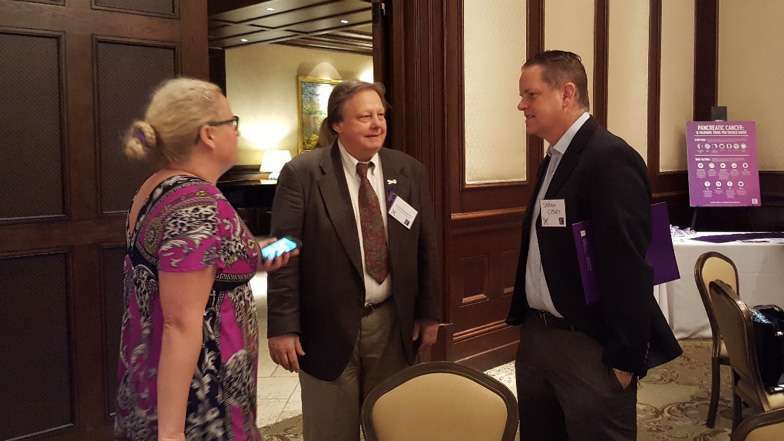 PanCAN grantee Dr. David Boothman (center) speaking with guests at the Leadership Breakfast
In order to support the critical research that will accelerate new treatment options and early detection methods to help improve patient outcomes, we need supporters, like those at the DFW Leadership Breakfast, to continue investing in our programs such as PurpleStride®, the walk to end pancreatic cancer.
Funds raised through this signature event support patient services including Clinical Trial Finder, Precision PromiseSM, Know Your Tumor® and the Patient Registry.
"PurpleStride is an opportunity for the entire pancreatic cancer community to come together to celebrate our successes, unite as a community and move together as a united front. It's vital to our mission," added Marquardt.
We are the only organization that attacks pancreatic cancer on all fronts: research, clinical initiatives, patient services and advocacy. Help us continue to improve patient outcomes today and double survival by 2020 by registering for a PurpleStride near you at purplestride.org.