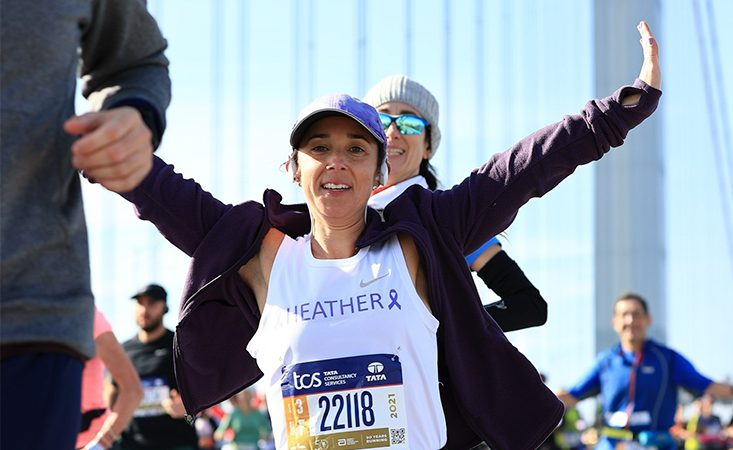 Heather Keil Stern would never have described herself as a runner. But you'd never guess that to be the case because last month Heather crossed the finish line of the NYC Marathon.
She did it for her mom, Wendy, who passed from pancreatic cancer 10 years ago.
"I'd love to say that running the marathon has always been a dream of mine, but to be honest, it hasn't. I wasn't particularly athletic or motivated in that way," said Heather. "It was my mom who was the super athlete in our family. She was a runner, a biker, and a tennis champion. SHE was the one who always fantasized about crossing that finish line."
Heather started running with friends and coworkers after college. She slowly built up confidence and in 2011 ran her first half-marathon.
"Throughout the entire race," Heather said, "I regretted my decision in signing up. When I finished, my first call was to my mom. I told her it was a terrible experience and that I'd never run a half marathon again."
"I distinctly remember her responding with 'give it a little time, I promise you'll sign up for another one.'"
And that's exactly what she did, just a few months after her mom passed. And after her last half-marathon in a time that even shocked her, she thought, I think I can run the marathon for my mom.
"Once the thought entered my mind, that was it," she said. "I was on a mission to get a spot in the NYC marathon."
Not only did Heather get her spot, she raised more than $38,000 with her Wage Hope My Way page for the race.
After her mom was diagnosed, Heather's family knew that finding a walk or a run for all of them to participate in was exactly what they needed. They discovered PanCAN and PanCAN PurpleStride NYC during that search. And for 10 years, they have stayed profoundly engaged with PanCAN.
"We all have full lives," Heather said, "but pancreatic cancer is a part of our lives. Our commitment to raising money and finding better treatments for this horrible disease is as strong as the day our mom was diagnosed."
Over those 10 years, Heather's family has raised, incredibly, more than $425,000 for PanCAN. Heather says that she is most impressed with the growth of PanCAN's research investment over that time.
"We saw the way our mom suffered and we want to be a part of a world where no one else has to suffer in that way," she said.
Of her marathon fundraising, Heather says, "Honestly, I am as shocked as anyone about the amount of money I've raised. I know that the key to fundraising, though, is to tell your story. It encourages people to also tell theirs. It encourages people to really want to make a difference."
And to that, Heather says, "If I can do it, so can you. It didn't come easy to me. I crossed the finish line because I decided it's something I wanted to do for my mom and I worked toward it. Quitting was not an option.
"We always say that this is a club we're a part of that we'd never choose to be a part of, but the truth is, we're in it for life now."
Join the movement to create a world in which all patients with pancreatic cancer will thrive.
Get involved today.