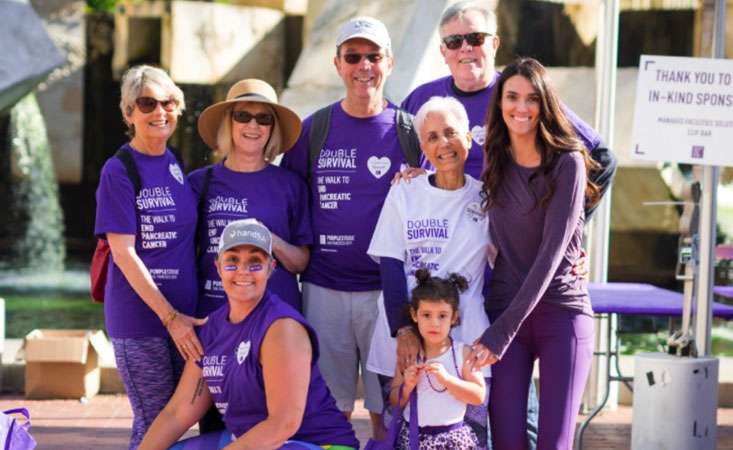 Jenica Leonard and her sister Becca Chambers well remember that first PurpleStride in 2015 after their mom, Sue Popik, was diagnosed with Stage III pancreatic cancer.
"It was a gloomy day in San Francisco, when we had to help Mom up from the grass so she could gingerly take the stage, refusing, until that moment, to even acknowledge the word 'survivor'," Jenica said.
It's a much different story six years later – and a much brighter one. Sue has taken the helm of the San Francisco affiliate as Affiliate Chair, joined by Becca as Communications Chair and Jenica as the new Co-Chair for PurpleStride. Jenica is also the team captain of their PurpleStride team, Sue and Peter's Striders, who are the top fundraisers for PurpleStride San Francisco 2021. Becca and Jenica both have young children and demanding jobs, as well. Becca is a VP of Corporate Communications at tech company Ivanti, and Jenica, inspired by her mom's long legal career, is a deputy district attorney for Sonoma County.
"We like to overextend ourselves," Jenica said.
Six years ago, all three of them knew something wasn't quite right, and Sue had already made an appointment with her doctor. Just before that appointment, Sue and Becca were at lunch.
"I remember interrupting her mid-sentence and saying "Mom, your eyes are yellow," Becca said. Sue was diagnosed shortly thereafter.
Becca and Jenica had no time for anyone telling them to get ready to say goodbye to their mom.
"I knew the statistics, and I knew it was unlikely my mom would live another year," said Becca.  "But I also know my mom, so I got to researching, I went to all the appointments with my mom, I took notes, I asked questions. I REFUSED to let anyone tell me that this was the end. I was NOT going to lose my mom."
Sue is also a two-time breast cancer survivor with a BRCA2 mutation. For Jenica, Sue's diagnoses had a profound effect on her own cancer journey.
"If it hadn't been for Mom getting tested for BRCA, I would not have received all the early screening that likely saved my life," said Jenica. "I am also BRCA2 positive, and because of the heightened screening, an MRI diagnosed me when a mammogram, just months before, had missed my Invasive Lobular Carcinoma."
With her diagnosis, Jenica said she could look to her mom and both her grandmothers' survivorship instead of looking at "scary, sterile numbers."
Becca agrees. Despite knowing the statistics of a pancreatic cancer diagnosis, Becca also knows her family. "My mom's mom survived stage III ovarian cancer when no one said she would, and my mom is just as tough – if not tougher – than my grandma," she said.
Or, as Jenica puts it, "Cruddy cancer genes, good survivorship genes."
These six years of Sue's survivorship journey have provided so much in the way of inspiration and gratitude. Sue welcomed her fourth grandchild, retired after 45 years as a lawyer and celebrated her 50th wedding anniversary.
For all three women, flying together to Washington, D.C., for the 2017 Women's March, with Becca's three-month-old daughter in tow, stands as a highlight.
"Since we felt like we were on borrowed time, we've all spent the past six years making up for it in the best possible way," said Becca. "Dinners and vacations, parties, park dates, school drop-offs, cooking, day trips and everything in between – we spend as much time with 'Ogee' and Poppa as we can. We're making up for the time we thought we wouldn't have and taking advantage of every day."
And Jenica, who was diagnosed with breast cancer two years after her mom's pancreatic cancer diagnosis, "successfully kicked its butt, too."
"I am my Mother's daughter, after all," she said.
The family's involvement with PanCAN has deepened over these six years, too. Regular PurpleStride participation has grown into a solid commitment to the San Francisco Affiliate.
Why?
For Sue, it's the mission. And it's fun.
"In short, I am awed by PanCAN and its mission to improve patient outcomes by attacking pancreatic cancer from every angle: not just their incredible patient services, but also research and advocacy."
"It was easy to keep going back to PurpleStride: It's not only a great cause, the event itself is both fun and inspiring. Even in the virtual space, we've managed to make it a family affair," said Sue. "And this year, though PurpleStride is still virtual, our all-vaccinated team will be breaking out our purple best and striding together in Redwood City."
For Becca, it's her mom.
"It feels like we owe a debt to the volunteers before us whose efforts helped fund the research that led to the treatments that saved my mom," she said. "As long as we can continue to raise money and wage hope, we will.  We're just so grateful that this community exists to help fund cancer research and treatments."
For Jenica, it's the future.
"Being BRCA positive, I want better outcomes for me. And for my boys, should they also be 'blessed' with BRCA. I want less invasive testing modalities so not a single other person has to hear, 'I'm sorry, we caught it too late,'" she says. "Mom will tell you, she got lucky.  She also had access to two of the best health systems in the world, UCSF and Stanford, where she was treated by multiple-disciplinary teams.  I want that for EVERYONE."
Join the movement to create a world in which all patients with pancreatic cancer will thrive.
Get involved today
.