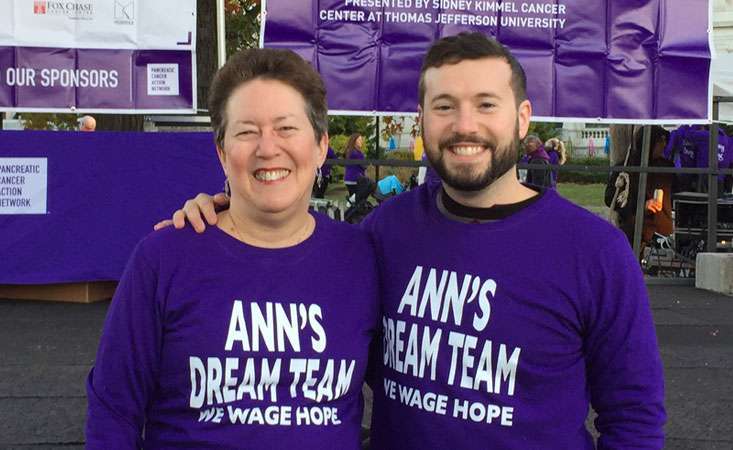 Editor's note: It's Pancreatic Cancer Awareness Month, and our focus is "Demand Better. For Patients. For Survival." Each week, we're bringing you conversations with survivors, families, volunteers, researchers, advocates and others fighting the world's toughest cancer. We're asking them why they Demand Better and what it means to them. To close out Pancreatic Cancer Awareness Month, we're highlighting pancreatic cancer survivor and passionate volunteer, Randi Jacobs. Jacobs is the third person in her family to be diagnosed with pancreatic cancer – her grandmother and mother passed away from the disease.
What does it mean to you to Demand Better?
I Demand Better so my two sons won't have to deal with pancreatic cancer.
Demand Better means building greater awareness and educating as many people as possible about this disease. It means continuing to encourage my family and friends to donate to PurpleStride so more research can be funded and more clinical trials can be made available.
My greatest hope is that researchers will discover early detection tools so we can increase the five-year survival rate beyond 9 percent.
Why is it important to develop early detection methods for pancreatic cancer?
I am the third generation in my family to have pancreatic cancer. I lost my mother and grandmother to this devastating cancer. My mother wasn't diagnosed until stage 4, when it was too late to save her life.
I am alive today because I was diagnosed with pancreatic cancer at the earliest possible stage. Early detection absolutely saved my life. I am so lucky to be an eight-year pancreatic cancer survivor.
Demand Better and create change in the month of December by making a year-end donation to fight pancreatic cancer.