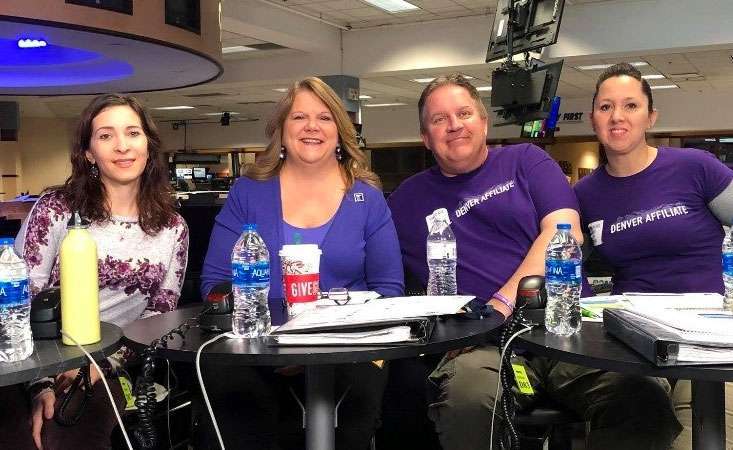 The Pancreatic Cancer Action Network's (PanCAN) Denver Affiliate partnered with 9NEWS for its Buddy Check9 segment dedicated to pancreatic cancer.
Viewers called the station's hotline to learn more about the disease and what resources were available, thanks to the assistance of PanCAN volunteers Kara Friedrich, Christopher Belt and Becky Morales, as well as Elissa Redding, BSN, RN-BC, nurse navigator at Sarah Cannon Cancer Institute at Swedish Medical Center.
"9NEWS uses Buddy Check9 as a tool to educate our viewers with information on various cancers," said Lynne Valencia, vice president of community relations at 9NEWS. "We work with partners who are the experts in these areas."
According to the American Cancer Society, an estimated 740 Coloradans will be diagnosed with pancreatic cancer, while 580 will die from it this year.
"We do this because we can provide the megaphone to get the word out," Valencia added.
No organization supports pancreatic cancer patients like the Pancreatic Cancer Action Network does. Through our Patient Services, we provide more resources and speak with more patients and caregivers than any other pancreatic cancer organization in the world. To learn more about our free, personalized resources and services, visit pancan.org or call 877-2-PANCAN.
Watch the full 9NEWS segment on pancreatic cancer.