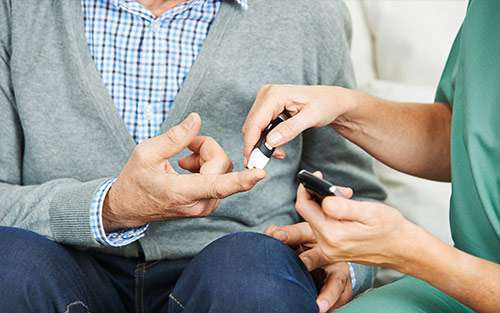 There is a complex relationship between diabetes and pancreatic cancer – diabetes can be considered both a symptom and a risk factor for pancreatic cancer.
A study recently presented at the European Cancer Congress 2017 meeting shed some light on differentiating adults whose diabetes diagnosis is associated with pancreatic cancer, as compared to patients diagnosed with new-onset diabetes but who do not have pancreatic cancer.
The research team evaluated individuals with diabetes in Belgium and Italy, and they found that a particularly aggressive case of diabetes that requires medication, or a rapid change or increase in medication, increased the likelihood that the patient has pancreatic cancer.
"It is thought that somewhere around 0.5 to 1 percent of patients with new-onset diabetes also have pancreatic cancer," said Anirban Maitra, MBBS, scientific director of the Sheikh Ahmed Bin Zayed Al Nahyan Center for Pancreatic Cancer Research at MD Anderson Cancer Center, who was not involved in this study. "Although that's clearly a small number, it is still six- to eight-fold higher than the general population."
"The study described here sheds some light on a way to identify clues that might help determine which diabetic patients have the highest likelihood of also having pancreatic cancer," Maitra continued. He is part of the recently-formed Consortium for the Study of Chronic Pancreatitis, Diabetes, and Pancreatic Cancer (a joint endeavor by the National Cancer Institute and National Institute of Diabetes and Digestive and Kidney Diseases), a two-time Pancreatic Cancer Action Network research grant recipient and a member of our Scientific & Medical Advisory Board.
To further improve our ability to identify pancreatic cancer in patients with new-onset diabetes or in the general public, we are offering a new Early Detection Targeted Grant. Up to $1 million will fund projects that identify promising biomarkers (measurable biological clues) or novel imaging techniques that can help detect pancreatic cancer within a group of individuals diagnosed with new-onset diabetes.
"There is currently no effective early detection strategy for the diagnosis of pancreatic cancer," said Lynn Matrisian, PhD, MBA, our chief science officer.
"Finding the disease in the general population can feel a bit like finding a needle in a haystack. Studying individuals with new onset-diabetes and searching for other indicators of the disease can make that 'haystack' a lot smaller."
---
Pancreatic cancer may cause only vague symptoms that could indicate different conditions. Pain (usually in the abdomen or back), weight loss, jaundice (yellowing of the skin and/or eyes) with or without itching, loss of appetite, nausea, change in stool, pancreatitis and recent-onset diabetes are symptoms that can indicate a problem with your pancreas. If you are experiencing one or more of these unexplained symptoms, we urge you to speak to your doctor immediately.  
For more information about this study, pancreatic cancer diagnosis or other disease resources, please contact PanCAN Patient Services.