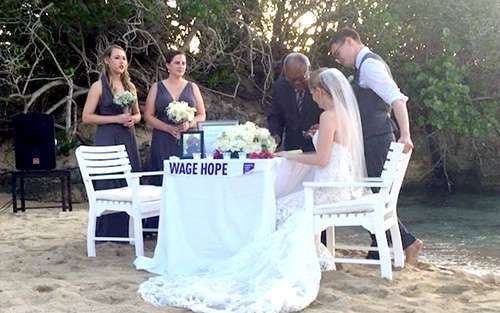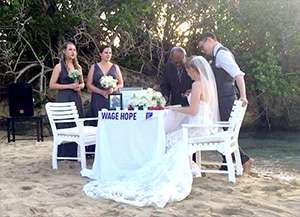 As far as wedding gifts, Joslyn Brandt Murray knew she and then-fiancée Brandon Murray had everything they needed, having been together for five years. But they didn't have the one thing they really wanted.
"The one thing we really wanted was for Brandon's dad, Roger, to be at our wedding," said Joslyn. "But the reason he wasn't there is because of a cancer whose research is severely underfunded. We need a cure for pancreatic cancer more than we need a new coffeemaker."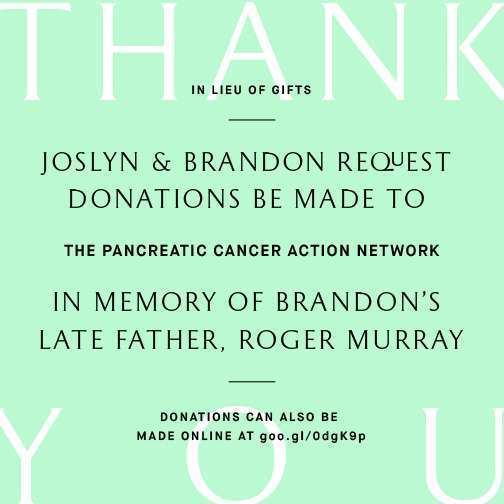 Joslyn and Brandon decided to set up a Wage Hope My Way page, dedicated to collecting donations instead of wedding presents. Their invitations included a link directing guests to the page, and after the ceremony, the marriage license was signed at a table with a Wage Hope banner. The reception also included a Wage Hope table with photos of Roger and donation slips for their guests.
Roger Murray was 55 when he was diagnosed, and passed away only five months later, in February 2015. "He was a really healthy guy, and by the time he made it to the doctor, after experiencing abdominal pain, he was not a candidate for the Whipple procedure," said Joslyn. "Even though the statistics were not in his favor, he was the happiest guy you'd ever meet, and he remained positive until the end."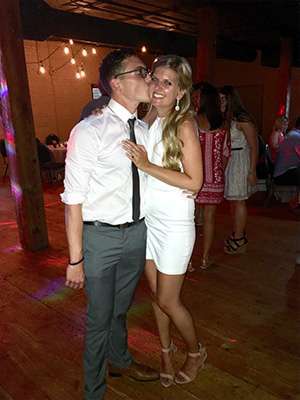 Joslyn discovered the Pancreatic Cancer Action Network after Roger had passed away. "I was angry that I lost my father-in-law too soon and wanted to do something about it," said Joslyn. She became involved with the Greater Chicago Affiliate and served as its Social Media Ambassador. She feels like she's found a family.
"From my very first volunteer meeting, I knew that this group was serious about their part in ending this disease. It's clear they won't rest until pancreatic cancer gets the research funding it deserves and the disease is no longer one of the top three in cancer-related deaths," said Joslyn.
The Murray family is Joslyn's constant inspiration. She says, "Brandon and his family are so strong after losing Roger, but no family should have to go through what they did." And Joslyn and Brandon have inspired their friends and family, as well. Their original goal was $500, and current donations stand at $1885.
What inspires you to Wage Hope? Follow Joslyn and Brandon's gift donation progress.
Show your creativity! Design your own fundraising event to champion the promise of a brighter tomorrow.