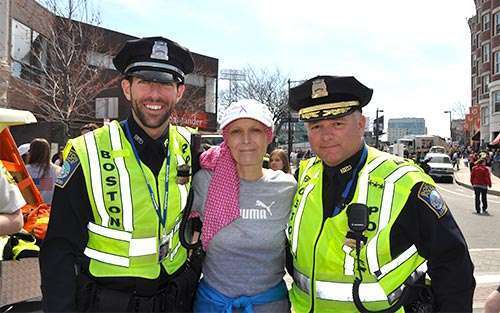 "In Search of Dreaming"
I wonder for how long this thing has been living inside me. A hidden, dormant deformity waiting to emerge, the unintelligible secret spilling from a mouth left ajar and the dilapidation of broken synapses taking place. Dumbly obscene. At night in my dreams, I am whole again, and I can run the way I can speak French flawlessly in the dreaming, my hair streams behind me, kissed in moonlight, as I sail, swift, in its silver remission, and my lungs can hold the breadth of the heavens there in the limitless expanse of their space. – Elinor Scott-Sutter, Oct. 17, 2012
Elinor Scott-Sutter loved poetry. She wrote this 14 months before she learned she had pancreatic cancer.
Her mother, Donna Scott, shared the poem and also noted her passion for running – she participated in numerous marathons. The one that intrigued her most was the Boston Marathon. So when she completed a qualifying run in Minnesota, where she lived, she promptly registered for Boston – the pinnacle for many runners. It was 2013.
Race day arrived, and Scott-Sutter was making great time on the route. Until she was stopped just a mile from the finish line by the Boston Police Department and, as she would learn, a terrible tragedy. The Boston Marathon bombing. Scott-Sutter's daughter Martha had been close to the bomber – she had moved just moments before to get closer to her mother on the course.
"Elinor was devastated that her dream had been taken away, but at the same time, she knew she had no reason to feel that way, because she was alive and uninjured while others were not," Scott said. "But she was more committed than ever to finish the next Boston Marathon."
When her daughter returned to Minnesota, she promptly ran a marathon to achieve another qualifying run, and mission accomplished – she was accepted to participate in the 2014 Boston Marathon.
"She was determined," Scott said.
"But life sometimes takes us where we don't choose to go."
Such was the case for Scott-Sutter, who was diagnosed with stage IV pancreatic cancer in January 2014. The news was devastating for her family – her husband and four children, her sisters, her parents. And to Scott-Sutter, who felt that now she might never achieve her dream of finishing Boston.
But thanks to the kindness and support of a friend from her local running club, who met with the director of the board of the Boston Marathon, she was eventually granted permission to participate in part of the race – the final mile. It was the one she had not been able to run the previous year.
"She thought that crossing the finish line would be the most amazing experience, but she couldn't have fully prepared," Scott said. "As the policemen moved the barricades and escorted her onto the course, and my daughter Jodi pushed Elinor's wheelchair behind her, the crowd went crazy cheering her on. The love she felt from total strangers was fantastic."
Scott-Sutter passed away in September at 51 years old, five months after finishing Boston. The following year, her younger sister Jodi Scott ran the marathon to honor her late sister.
"It was a cold and rainy day, and Jodi was struggling," Scott said. "It was an extremely emotional time for all of us. And then, at the one-mile marker, where Elinor had been stopped during the 2013 marathon and where policemen had escorted her onto the course in 2014, the same policemen met Jodi. They gave her a huge hug, teary-eyed.
"We were filled with gratitude and joy on that day. It will live in our hearts forever."
This June, Scott and family and friends will again honor a special daughter, sister, mother. Together, they'll participate in PurpleStride Sioux Falls (S.D.), the walk to end pancreatic cancer, as part of Team Elinor Strong – named in part after "Boston Strong," the slogan created after the marathon bombing. And also in part the resilience for which Scott-Sutter was known.
"My daughter LOVED to run and I can think of no better way to honor her than to plan and participate in a walk/run to benefit pancreatic cancer awareness and research," Scott said. "She had so much stamina, even in death. A week before her passing, she jokingly said, 'What can I say – I'm an endurance junkie!'"
This is the first PurpleStride to be held in Sioux Falls. Scott is heading up the event as the PurpleStride Chair for PanCAN's Sioux Falls Affiliate of volunteers. As a breast cancer survivor, she is certain that breakthroughs in pancreatic cancer, as happened with breast cancer, will come with more awareness and funding.
"I got involved because pancreatic cancer is a fierce opponent. We need everyone to fight the hard fight."
Thank you to all volunteers, who, with fierce determination and commitment, move mountains in their communities to change the course of history for pancreatic cancer. To show your support, register or donate to a PurpleStride near you.