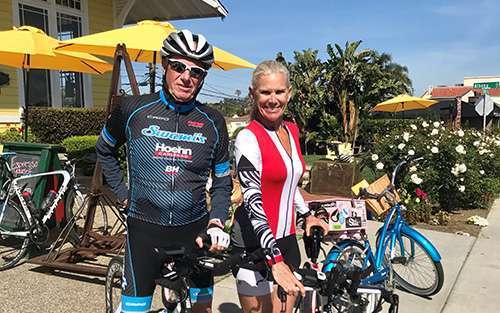 Anything is possible.
This is the message that Mike Levine of Carlsbad, Calif., will take to Capitol Hill on the 10th anniversary of National Pancreatic Cancer Advocacy Day in June. It's his first time attending, and he's got a lot to say to Congress.
He'll tell them that, despite the pancreatic cancer statistics, there is reason to be hopeful. He'll remind them that lofty goals – such as ending pancreatic cancer – are achievable with perseverance, commitment and focus.
He'll ask them to go the distance and increase funding for pancreatic cancer research.
"I'm going to Advocacy Day because I can make a difference and help get this disease across the finish line," Levine said during a recent visit to Pancreatic Cancer Action Network. "It's important to take steps toward your goal – going to our nation's capital to advocate for more pancreatic cancer research funding is one of mine. It's about something bigger than myself."
Levine knows a thing or two about setting big goals and achieving them.
He is a two-time IRONMAN® finisher and is hoping to compete in his third – the IRONMAN World Championship in Kona, Hawaii, coming up in October. The race consists of a 2.4-mile ocean swim, a 112-mile bike ride and a full, 26.2-mile marathon – a grueling feat for the most accomplished athlete.
But especially so for Levine: He is a stage IV pancreatic cancer patient undergoing chemotherapy.
Because he has not already pre-qualified to race and therefore is not guaranteed a spot, he is appealing to IRONMAN organizers to allow him to compete as a "special-interest athlete" with a compelling story to tell. His letter to IRONMAN officials requesting one of the openings is still under review.
He's hopeful he'll be accepted, and he's training like he already has been.
Each week, he's on his bike, running or at the pool, envisioning a strong finish in Kona and grateful for his stamina.
"Fitness is playing a significant role in my survivorship," he said. "My training regimen helps me better tolerate chemo, minimize side effects and bounce back more quickly."
Helping as well is Levine's training partner, mentor and friend, Kathleen McCartney, who will also attend Advocacy Day.
The two competed in the 1982 Hawaii IRONMAN but they didn't know each other then. Though Levine had been inspired to participate that year because of McCartney, they were introduced by mutual friends this past January.
In an interesting twist, it was McCartney who famously won the 1982 IRONMAN World Championship. By 29 seconds – the smallest-ever margin of victory – she edged out Julie Moss, who was crawling after she collapsed 50 feet before the finish line. This footage was featured on ABC's "Wide World of Sports" and is revered for putting the IRONMAN competition on the map.
This year will mark the 35th anniversary of McCartney's renowned finish. She hopes to run across the finish line in Kona with Levine by her side, their arms held high in victory, hands clasped.
And this time, it's her turn to be inspired.
"The first time we rode our bikes together in training, we went 13 miles," McCartney said. "We stopped several times so he could catch his breath, but I saw a spark in this former IRONMAN. I decided to commit to my 12th IRONMAN championship this year – if I was encouraging Mike to take that first step, I knew I had to be alongside him. And he's kicking my you-know-what on bike rides now!"
Levine, a lifelong athlete with more than 100 triathlons under his belt, has since reconnected with his local triathlon community and is getting stronger every day. He estimates he's in the saddle – his favorite part of IRONMAN – about 100 miles a week, and he'll work up to 175 a week as the race gets closer.
He encourages anyone facing a pancreatic cancer diagnosis to remember to have hope and keep pursuing lofty goals.
"Before I met Kathleen and got back on the bike, I laid on the couch for a year feeling sorry for myself," he said. "Don't do that. Don't give up hope. Seek out your dreams and live your life. Just do it one step at a time."
This June, Levine and his wife, Jan – a breast cancer survivor – will celebrate his two years of surviving pancreatic cancer. It hasn't been an easy time. Complications from his Whipple procedure in 2015, as well as learning that the cancer had spread to his lungs, were huge setbacks. But today, thanks to chemotherapy that's working and an oncologist who's encouraging and hopeful, plus a newfound friendship with McCartney, they agree that there's joy and enthusiasm again in their lives.
Everyone is confident Levine can finish Kona if he's selected to participate.
But he'll have his work cut out for him: the race is about mental toughness as much as physical. It's a demanding course with a scorching sun and temperatures in the 90s. He's up for the challenge, though.
"This is a bucket list item. I want to finish one more IRONMAN and close out this chapter in my life," he wrote in his letter to race officials.
Until he hears back, he'll keep taking that next step toward his big dream.
Which first includes a stop in Washington, D.C., for Advocacy Day, where, as with IRONMAN, Levine will go the extra mile to achieve a goal that's bigger than himself: fighting for an end to pancreatic cancer.
And he'll hear the IRONMAN motto in his head: "Anything Is Possible®."
Editor's note: Regretfully, we share that Mike Levine died of pancreatic cancer in January 2020.