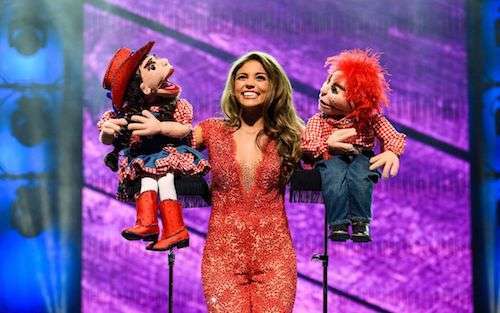 Laryssa Bonacquisti used her talents as a ventriloquist to win the 2016 Miss Louisiana competition. But since then, she has used her role to draw attention and funds to fighting pancreatic cancer.
As reported in The Advocate, Bonacquisti, 22, learned just two days after competing in the pageant that her grandmother, Laveron Falls, had been diagnosed with the disease.
She immediately appealed to her mother, "We're going to fight this, right?" And her mom cautioned, "You do realize pancreatic cancer is strong. It is powerful. We're going to fight this, but it's going to be hard" as stated in the article. Doctors gave her grandmother seven months to live.
"I didn't realize how hard that cancer was. I didn't know anything about it." Then Bonacquisti found the Pancreatic Cancer Action Network (PanCAN). She joined PurpleStride New Orleans, the walk to end pancreatic cancer, and formed a team in honor of grandmother, Team Charlotte, the middle name she shares with her mother and grandmother.
Bonacquisti's grandmother outlived her prognosis by two months before she passed away this past March.
"Her fight inspired me to get involved." Bonacquisti explained in the interview, "The problem with pancreatic cancer is that it's not diagnosed early enough. I plan to raise awareness and funds to discover some sort of diagnostic technique to find the disease early enough to prevent it or potentially cure it."
As Miss Louisiana, Bonacquisti is supporting PanCAN's efforts to fund research that establishes screening tests to determine those who are genetically predisposed to the disease, develops diagnostic techniques or improves treatments.
Bonacquisti will participate in the Miss America Pageant in September and, once again, in PurpleStride New Orleans in November. To support her personal efforts to rewrite the future of pancreatic cancer, donate to Team Charlotte.
Or find a PurpleStride near you and join the fight to end the world's toughest cancer.