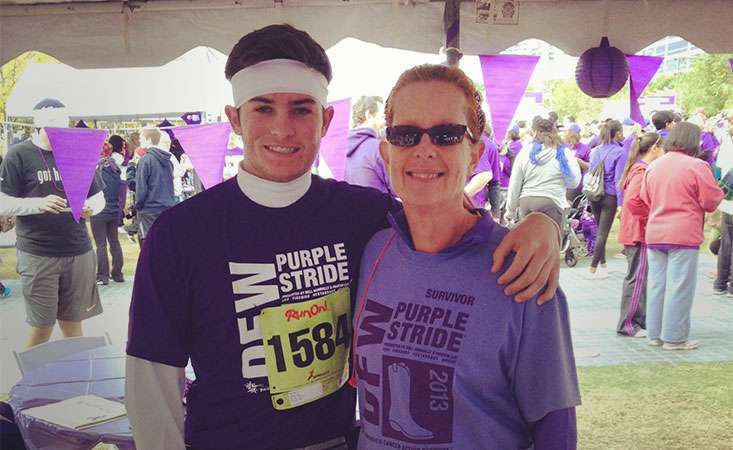 Editor's note: It's Pancreatic Cancer Awareness Month, and our focus is "Demand Better. For Patients. For Survival." Each week, we're bringing you conversations with people fighting the world's toughest cancer. We're asking them why they Demand Better and what it means to them. Today, pancreatic cancer survivor Eva Lax of Texas, mother to three and grandmother to five, shares her story. This weekend she will run in her local PurpleStride, which she has done every year since her diagnosis nine years ago.
Eva – you're a nine-year pancreatic cancer survivor. Congratulations on your continued good health. How was your cancer found?
I was having gallbladder pain – nothing too bad, though. I went to my doctor for a regular checkup and told her about the discomfort. Fortunately, she was a really thorough doctor, and she ordered an ultrasound. I had a great radiologist, as well, who spotted a tumor that was only about 1 cm. It turns out it was neuroendocrine pancreatic cancer. Within a month of visiting my doctor for that first routine checkup, I had the Whipple. Things moved quickly, in part because I pushed for answers.
You're a retired nurse. How did you wrap your head around this diagnosis?
I was shocked – I thought she was going to say I needed to have my gallbladder removed. Instead, she said: "The ultrasound showed what is, most likely, neuroendocrine carcinoma on your pancreas." We hung up and I took one look at one of my nursing books and there were just a few sentences about pancreatic cancer. One of the sentences said, "…barely a 5 percent survival rate." I closed the book and didn't read anymore.  I chose not to go on the Internet and tried to stay away from negative thoughts.
Given that your cancer was caught early, you're clearly a huge proponent of early detection for pancreatic cancer.
The symptoms are so vague and can be so many different things. An early detection test would be great for people at high risk. Early detection is key. It's why I'm still alive.
You will be at PurpleStride DFW in Dallas this weekend. Tell us more.
I've gone to PurpleStride DFW every year since I had the Whipple surgery. I'm a runner, so I run it every year and enjoy it very much. The speakers – the survivors – are memorable. Hearing their stories stays with you. I was recently given a sash that says, "Survivor," and I'm going to wear that this year, plus my purple tutu.
It wouldn't be PurpleStride without a purple tutu!
That's true! The most important reason to be at PurpleStride is so that people can see that people can and do survive this disease. For them to see that there is hope. I've never contemplated not going to PurpleStride. I want to do all I can to make sure the survival rate for pancreatic cancer continues to go in the right direction.
Join us in fighting the world's toughest cancer. Visit pancan.org/demandbetter to learn more about how you can Demand Better during Pancreatic Cancer Awareness Month and beyond.