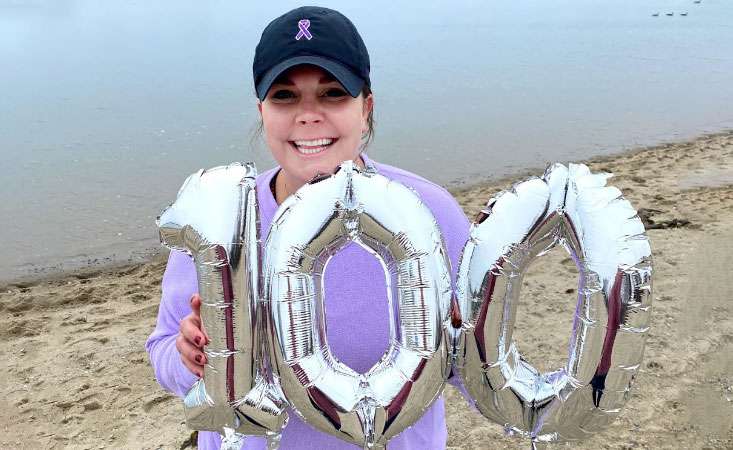 When Margo Rizzi's family and friends pledged to walk 200 miles in February to show support for her dad, John Rizzi, they planned to raise $10,000 for PanCAN.  Little did they know they'd raise more than $25,000 AND inspire a complete stranger to pick up the challenge.
"Since the onset of my Dad's diagnosis, family and friends have offered their unconditional support for my dad," said Margo. "When we shared our goal with these family and friends our, they jumped at the opportunity to help."
Taking their family motto, #CancerHasNoBIZwithRIZ, to social media to spread the word, the fundraiser soon became a cross-country event for the Rizzi family and friends. Margo, who lives in Boston, had a personal goal of 100 miles for the month.
"In addition to our immediate family walking, we had family and friends all over the U.S. logging miles in support of my Dad," said Margo. "We had John's warriors walking in New Hampshire, Maryland, Naples, Pittsburgh, Philadelphia, New York and Boston, all while rocking their purple in support of pancreatic cancer awareness."
Margo did her homework on pancreatic cancer patient advocacy organizations when her dad was diagnosed and was drawn to PanCAN for their work around early detection.
"We've learned how critical it is to diagnose this cancer earlier to allow for more surgical options for patients," she said.
Every day through February, Margo and family would share their mileage and donation progress on social media. They figured they were just holding themselves accountable to reach their goal, which they surpassed many times over.
But it wasn't just the Rizzi family paying attention.
In February, Lisa Martin of Long Island, NY, lost her mom to pancreatic cancer.
"When my mother passed away, I struggled with guilt that I could have/should have learned more, advocated more, tried harder to help her," Lisa said. "I know now that that was way beyond my ability but I wanted to find a way to help others while honoring her."
Thanks to the power of social media, Lisa found it.
She had also done her homework on pancreatic cancer organizations. She saw that PanCAN was at the forefront of research, support and advocacy, which brought her to PanCAN's social media pages.
"On PanCAN's Instagram Stories, I saw another young woman who had walked 100 miles for PanCAN and thought this would be the way I could do just that – honor my mom and help others."
Lisa pledged to walk 160 miles between March 22 and May 1. Her initial goal was $10 per mile, but she was over $6,000 before she knew it. She raised her goal to $7,500 and has already surpassed that, at more than $8,200.
"There are things I know now that I wish I knew then," said Lisa. "PanCAN is a great source for that information. You should also research success stories and explore all treatment options. These can be a great source of hope while still giving the facts."
Margo agrees. "Our family wants everyone to know that no one fights alone.  We want every pancreatic cancer patient to know that they are supported," she said. "We are fighting for medical advancements to change the future of pancreatic cancer."
"And along the way," she said, "it's so fantastic to hear that #CancerHasNoBIZwithRIZ inspired others to raise these critical funds!"
Get inspired with your own
Wage Hope My Way fundraiser
! Pledge to walk 20 miles a month to represent PanCAN's goal of 20% survival rate by 2030. Explore other ideas
here
.