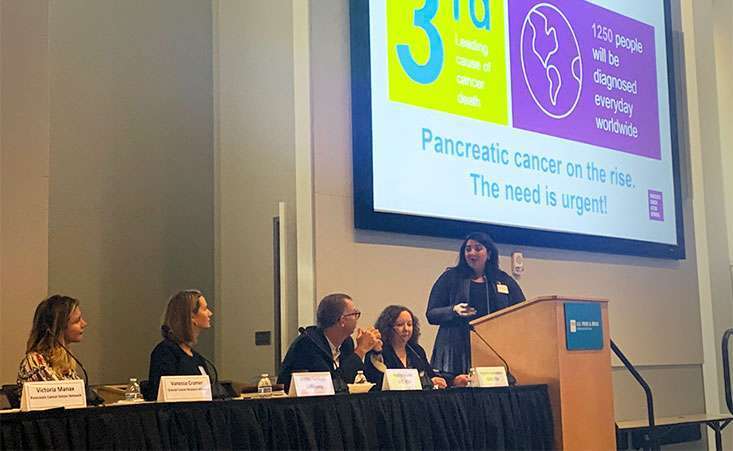 Patient advocacy leaders, including Pancreatic Cancer Action Network's (PanCAN) chief medical officer Victoria Manax, MD, gave opening remarks at the U.S. Food and Drug Administration's (FDA) annual Partners in Progress workshop on Oct. 8.
Designed for new patient advocates and sponsored by the FDA Oncology Center of Excellence (OCE), the day-long educational workshop provided nearly 200 attendees with basic training on the role of the FDA and patient advocates in cancer drug development.
OCE deputy director Paul Kluetz spotlighted patient advocacy organizations as key to this process, including the event's supporting organizations: PanCAN, LUNGevity Foundation and the Ovarian Cancer Research Alliance. Working with these organizations on various areas, including clinical trial design, Kluetz acknowledged, "We value the relationship we have with these groups."
In her remarks, Manax gave an overview of PanCAN, including the organization's scientific and clinical initiatives, government advocacy, community engagement and PanCAN Patient Services.
Excited to see my colleague @victoriamanax at the #FDA #OCEPIP19 meeting focusing on cancer & cancer advocates @PanCAN Learning great things that mean so much to our patients & volunteers pic.twitter.com/TReM3LEcr7

— Kevin Sims (@ksimsnews) October 8, 2019
"We have what I consider 'the gold standard' in patient services," Manax said, describing PanCAN Patient Services, which supports pancreatic cancer patients at any point in their journey, from diagnosis to managing treatment to living with the disease.
Manax continued, "Patients are at the center of every decision we make."
It was a sentiment echoed throughout the workshop, which covered an array of topics from patient engagement to outreach efforts.
The Partners in Progress 2019 workshop marked the event's third year. In addition to providing training, the workshop presented attendees with an opportunity to network and learn from expert patient advocates and FDA staff in attendance.
Having a patient advocate is important to address and manage the needs of a pancreatic cancer patient.
Contact Patient Services
to receive personalized, in-depth resources and information.