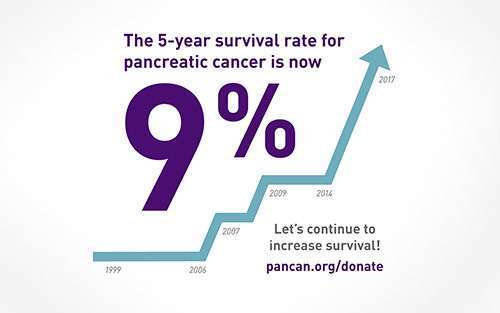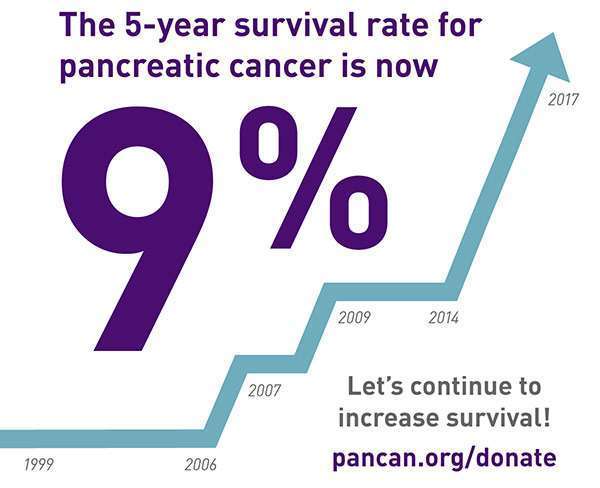 Today, the American Cancer Society released its annual Cancer Facts & Figures report, which highlighted some encouraging news for the pancreatic cancer community.
The five-year survival rate for the disease increased, moving from 8 to 9 percent!* This is the third straight year that the five-year survival rate has climbed, moving us one step closer to achieving our goal to double survival by 2020.
"This moderate but critical shift highlights that we are making progress and that we need to continue to accelerate our efforts," said Julie Fleshman, JD, MBA, president and CEO of our organization. "I am extremely grateful to all of our supporters and the amazing patients that participate in clinical trials helping to make this progress possible."
While we should celebrate our success, there is much more work to be done for patients today, and for those who will be diagnosed in 2017. It's estimated that 53,670 Americans will be diagnosed this year and 43,090 people are expected to die from the disease. Pancreatic cancer remains the third leading cause of cancer-related death in the United States, killing more people than breast cancer.
We are accelerating progress toward our 2020 goal, but we cannot do it alone. With your financial support, our organization will continue to spearhead vital research, clinical programs and patient services that will improve lives. Please make a donation and invest today in all those impacted by this deadly disease.
*Rates are adjusted for normal life expectancy and are based on cases diagnosed in the SEER 9 areas from 2006 to 2012, followed through 2013.