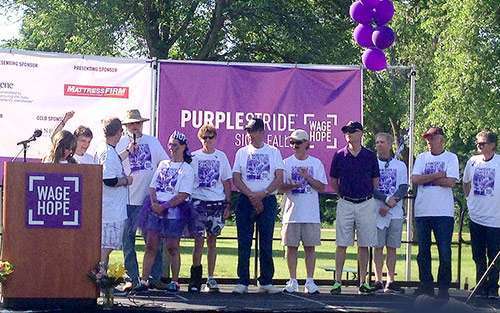 The walk to end pancreatic cancer had a big weekend, extending to Delaware, Indiana, Oklahoma and South Dakota. These four PurpleStride events combined brought together nearly 3,000 passionate purple people to raise funds and awareness for the fight against pancreatic cancer.
In Sioux Falls, our dedicated volunteers held their inaugural PurpleStride at Cherry Rock Park, and more than 550 participants came out to support the cause! Their first ever PurpleStride was an enormous success, raising more than $56,200 to support the Pancreatic Cancer Action Network (PanCAN) and its goal to double survival by 2020. The event was emceed by local radios stars Chris Carter and Doc Murphy, of the Chris + Doc Show on Big Country 92.5 KTWB . Doc is a pancreatic cancer survivor.
On the other side of the midwest, PurpleStride Indianapolis brought out approximately 1,150 pancreatic cancer survivors, families, friends and coworkers dedicated to ending pancreatic cancer. The event took place at a brand new venue this year, at White River State Park, and has raised an estimated $100,000 so far for the cause.
Down south in Oklahoma, the community came together back at Veteran's Park. Decked out in purple T-shirts, leis, hats, tutus and other costumes, approximately 360 participants came to take a stand against pancreatic cancer. More than $65,100 was raised. The event was hosted by Shae Rozzi, an anchor and investigative reporter for FOX23 News.
Last but not least, heading east to Delaware, our event in Wilmington brought nearly 900 people together, including about 150 people who signed up on event day, at Riverfront Wilmington to change the course of history for pancreatic cancer. Participants mingled, shared stories and honored loved ones affected by pancreatic cancer. The event was a rousing success, raising an estimated $118,600 for the fight this year.
Thank you to every single person who came out, donated, fundraised and spread the word. Each year, at more than 50 events across the country, passionate supporters Wage Hope at PurpleStride, the walk to end pancreatic cancer. Funds raised through this signature event support such services as Precision Promise, Know Your TumorSM and the Patient Registry.
Take a look at photos from this weekend's events below – more will be added as we receive them! You can join in on the fun, too, and make an impact in the fight at the same time. Register today for your local PurpleStride.
PurpleStride Sioux Falls Photos:

PurpleStride Indianapolis Photos: