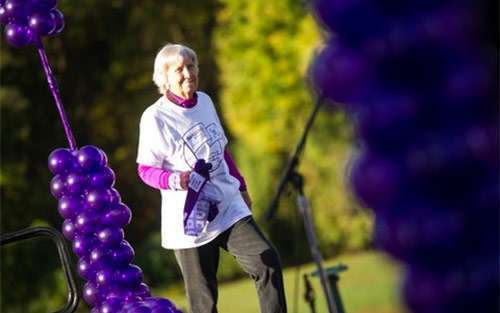 We recently asked Frances Flateau, a nine-year pancreatic cancer survivor, what she does to Wage Hope Together during Pancreatic Cancer Awareness month and why it's important to make sure more people know about the disease. Learn what you can do to recognize November as Pancreatic Cancer Awareness month in your community.
Frances, tell us how you recognize Pancreatic Cancer Awareness month.
One of the things I like to do is get purple socks for my grandsons' soccer teams. I get a little crazy every October when everything turns pink, so several years ago after watching an NFL game and seeing those men in pink (even the officials had pink whistles!), I called my son, who coaches his boys' teams, and asked if they could wear purple socks in November. He said yes, and so now they wear purple socks! The families of the boys on my grandsons' teams do not have a connection with pancreatic cancer and most know very little about it. So my son made sure that all the parents – and the opposing teams – knew why the boys had the socks. It was my way of spreading the word.
What does it mean to you, as a survivor, to have so many people in this country Wage Hope Together to raise awareness for the disease?
It is wonderful, and it is extremely important. All that most people seem to "know" about pancreatic cancer is that if you get it, you die. But I am living proof that that is not true! I talk to many of them and tell them about it and the enormous need for money for research so that it will no longer be so deadly.  I joke that I have my soapbox under my arm all the time and get on it at any opportunity. The White House was lighted pink last month. I don't know that we'll see if purple on Nov. 17, but pancreatic cancer will kill more people this year than breast cancer. There I go…on my soapbox!
Why is World Pancreatic Cancer Day on Nov. 17 so important?
I think the key to awareness is education. We must, repeat MUST, find a way to raise national AND international knowledge about the disease. So many people know someone who has died from it but it goes no further than that. Think about AIDS.  When it first came on the scene, it was a fatal disease. Then vast sums of money were given and today, it is a chronic disease. This could happen for us if only we raised more awareness and funds. Sorry, my soapbox again.
Are you participating in any PurpleStride events in November?
In Novembers past, I have walked in PurpleStrides in New Jersey, Philadelphia and Sacramento, but my age (81) and the weather slow me down. Last November I walked in all three, but I was trying to finish a personal challenge (to walk in 16 5Ks the year of my 80th birthday…New Jersey was number 16). But I thought I would never be warm again!
Join Frances and Wage Hope Together in honor of Pancreatic Cancer Awareness month!