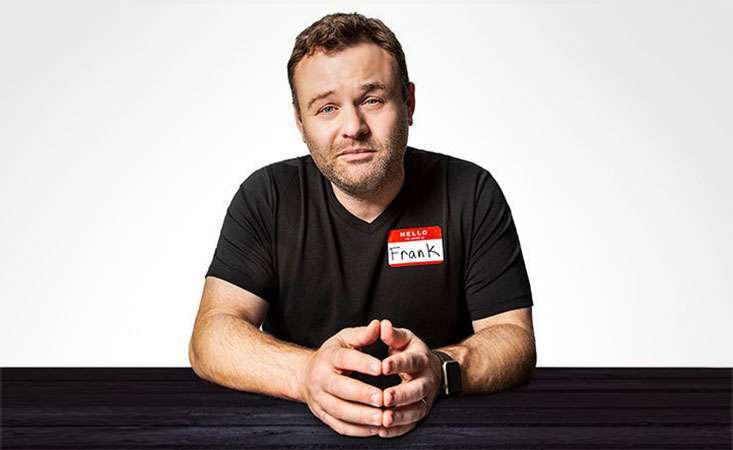 Editor's note: Our "It Starts with Someone" series chronicles all kinds of Pancreatic Cancer Action Network (PanCAN) supporters – volunteers, survivors, caregivers, advocates, researchers – and describes the "someone" who has impacted their efforts in the fight against pancreatic cancer. This week's "someone" highlights comedian Frank Caliendo for raising awareness for pancreatic cancer while honoring his father-in-law, who died due to the disease.
On July 18, actor, comedian and impressionist Frank Caliendo will perform in Cleveland, OH, for his "Hello: My Name is Frank" comedy tour. All proceeds from the event will be donated to the Pancreatic Cancer Action Network (PanCAN).
Caliendo's wife, Michele, lost her father Joe Vitale Sr. to pancreatic cancer at the age of 74. Vitale Sr., who served as the senior director of physician recruitment at the Cleveland Clinic, died on July 26, 2016 – on the birthday of his grandson Joe Caliendo, who is named after his grandfather.
"My father was diagnosed and given three months to live," Michele said. "Unfortunately, he didn't make it the three months. It changed our lives forever."
This life-changing event led the Caliendo's to give back to the pancreatic cancer community in hopes that others won't have to go through the pain they've experienced.
"When you hear cancer, you know you have a fight on your hands," Michele said. "Hearing pancreatic cancer, people think of it as a death sentence. I want to help people get that idea out of their heads. I want people to never give up hope."
When Michele was given her father's diagnosis they immediately began doing research, which led them to PanCAN.
"Everything happened so quickly we didn't have much involvement [with PanCAN] until after he passed. Then we started looking into ways we could help others," Michele said.
The right opportunity to help others presented itself when Frank was approached with the option to perform a benefit show. Realizing he didn't have prior obligations, he knew exactly who he wanted the proceeds to benefit.
"When it was said to me, do you want to do a show I said yea, we have something that's very specific to us," said Caliendo. "Let's make it a charity and let's donate all the proceeds to PanCAN."
The Caliendo's feel a great urge to help fund research for a disease that has taken so much from so many – a disease they feel needs more attention.
"I don't think most people know what a pancreas is, nobody even thinks about it," Caliendo said. "It's pretty undetectable, it's hard to find, know about or diagnose, it deserves a bunch research."
Caliendo's stand-up comedy performance will be at Pickwick & Frolic and tickets can be purchased at the door.
The family hopes to remain connected to the pancreatic cancer community in an effort to raise awareness for a disease that desperately needs it.
"I want to do whatever I can to help, so more research can be done," Michele said. "It breaks my heart to know that there are so families out there that will hear the same words we did just two years ago. I hate that I know the sadness they will go through."
Donate today
to allow PanCAN to support bright and motivated scientists who are working to better understand, diagnose and treat pancreatic cancer.