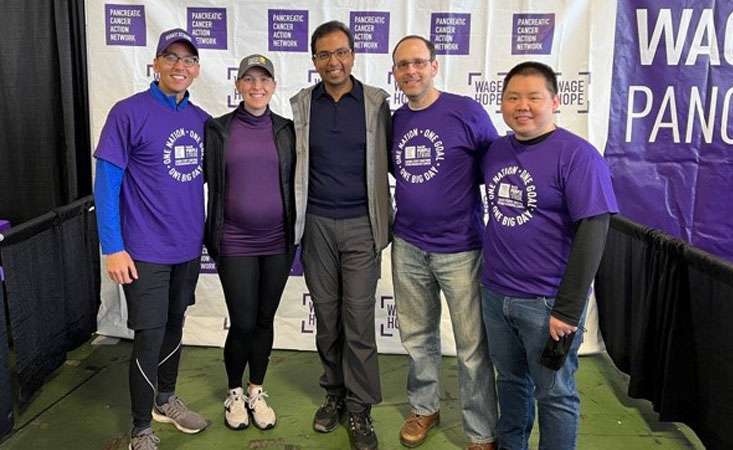 Editor's Note: Fred Hutchinson Cancer Center is a Premier Sponsor for PanCAN PurpleStride Puget Sound and has been supporting PurpleStride for more than 10 years.
Ensuring that everyone with pancreatic cancer has the best possible outcome takes dedication, like the kind displayed by Dr. Venu Pillarisetty, associate medical director of surgical oncology at Fred Hutchinson Cancer Center.
"What we're working on becomes such a big part of our lives — even outside of our workday — that I think my son could spell the word 'pancreas' before he could spell 'dog,'" says Pillarisetty, who is also surgical director of the Pancreatic Cancer Multispecialty Clinic at Fred Hutch.
For PanCAN PurpleStride 2023, Pillarisetty will be at Magnuson Park in Seattle, Wash., alongside walkers honoring and celebrating those who've had the disease and raising funds for PanCAN's research and patient-support efforts. Officially, he'll be giving remarks on behalf of Fred Hutch, a long-time partner of the Puget Sound event. But more than that, he's drawn to PurpleStride by a sense of solidarity with other participants.
"These are people who are engaged in the same work we're engaged in as doctors," he says, "just in a different role. We're on the provider side offering treatments, and they are the survivors and, in many cases, the family and friends of people who've had pancreatic cancer. We're ultimately all part of the same team."
Pillarisetty, who has been part of PanCAN PurpleStride for years, values what teamwork can accomplish. He works closely with a group of pancreatic cancer specialists to provide team-based care at Fred Hutch.
Timely coordination among the specialists means their patients don't simply see a surgeon who recommends an operation, a medical oncologist who recommends medicines and a radiation oncologist who recommends radiation therapy. Instead, patients get a comprehensive treatment plan, informed by all the specialists' knowledge and expertise.
"Our recommendations are also informed by trying to learn as much as possible about the patient so that we understand their goals," adds Pillarisetty, because each patient is an individual who deserves to be cared for as such.
The team spirit carries over into Pillarisetty's scientific work, too. He does lab research on the body's immune response to pancreatic cancer as well as other cancers that metastasize to the liver, like colorectal cancer. His lab collaborates with many Fred Hutch doctors who also conduct research or clinical trials while caring for their patients in clinic. Currently, Pillarisetty is working with other researchers across the country to develop a national, multicenter study testing an immune-based treatment approach based on research findings from his lab.
"I'm what was known as an immunotherapy true believer," Pillarisetty explains. "I believed in the potential of these therapies over two decades ago, and my conviction has only gotten stronger.
"A lot of the early clinical trials of immunotherapy suggested these treatments weren't going to work well for pancreatic cancer. But I think we're only at the beginning, and as we learn more about the tumor microenvironment, there's reason to be hopeful. We're just at the edge of coming up with a whole new set of treatments that are going to activate the immune system against this disease."
Being a doctor as well as scientist fuels his optimism. "Working in the clinic, we have very deep connections with our patients' experiences, what they really need and what is going to work on a practical level. When you've got actual patients in your mind, there's a strong desire to make things happen. We need to keep going."
60 events. One big day. Together, we will end pancreatic cancer. Find your local PanCAN PurpleStride,
register for free
and start fundraising today.